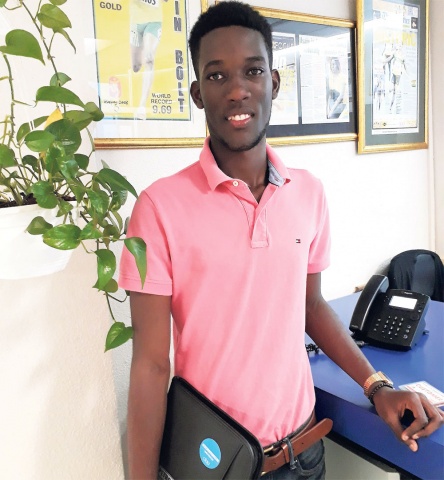 Petrojam's H.J. Fenton Scholarship recipient for 2017 is more than just an academic. Tavar Brown exudes a confidence that makes him immediately likable, sitting down for a tell-all with Youthlink.
He recalls a type of growing up that would lean on the idea of chivalry being still alive as he, away from his parents in Kingston, started life in Clarendon at age three with grandparents and tremendous aunts. Though he missed Mommy, "not a little bit, but a lot," Tavar says living with Grandma taught him certain life skills.
"Church was a must," he said. "I never once recalled not going to church on Sundays. And with school, she ensured I was doing my work. My grandfather used to be the soft one to say, 'Stop pressure him', 'Mek him easy a bit', but she was never the type to force me. She was stern but gentle." For seven years he attended Knox College, where he achieved five grade ones and three grade twos at CSEC. Finishing strong, CAPE saw him  pushing a little harder.
He remembered, "Kenroy Carty was my teacher of both units for pure maths and applied maths. In Unit 1, he realised that I had a lot of potential, but I was very relaxed. I would just do enough and don't really try too hard.
"One day I was in pure maths class and I got almost the highest in the class on a test, and he was like, 'You have a lot of potential and I think you can top the island'," he recalled. "I was like, 'Carty, no I can't do that', and he said, 'Your problem is you lack ambition.' That was rough but it was actually true, and I vowed to make him proud." 
Eventually, the 19-year-old finished in the top five for applied maths and the top 10 for Unit 2 in the country. He considers himself one of the good ones. "I actually heard one of my aunts confess to Dad that I'm a very good child, so I should get anything I want because I do well in school and I don't give trouble," he said.
GETTING THE SCHOLARSHIP 
"Applying for UWI, I saw some scholarships and filled out a form through the Office of Student Financing, and one day I went back on the site and realised that there's a new scholarship – H.J. Fenton from Petrojam for three years," he explained.
He emailed the university right away to add this scholarship to his list. At the time, the degree he had in mind was electronics engineering, which would have cost a whopping US$10,000 per year, exclusive of boarding.
Two weeks before school, his dad, who had given him the assurance that he would make the payments in parts, said he couldn't afford the fee. Disheartened, he tried to change majors to actuarial science. "I was here at  UWI, then I got an email saying I was shortlisted for a scholarship," he said. 
For him it was pure luck; though he had already asked to transfer to actuarial science, he mistakenly did not accept the UWI's offer to pursue that major. Therefore, on record, he was still looking to pursue engineering, which was why Petrojam reached out to him regarding the scholarship.
He said an hour after his interview, he got the call. "I was like, 'This is not real, probably they're going to say it's a mistake. What is in me that isn't in any of the other persons I saw waiting to be interviewed?'" he remembered
vividly.
KEEPING UP
The H.J. Fenton Scholarship has had three awardees since starting in 2003. It covers tuition, books, boarding and an annual allowance. As a condition of service, awardees must maintain strong academic performance,  which translates into a 3.6 GPA or higher.
"Currently, my faculty GPA is 3.7, so I guess I'm keeping up. I realised I'm very blessed; what is to happen will happen," said Tavar. Though engineering was not always in his plans, Tavar is enjoying being creative.
"When I was young I wanted to be a gynaecologist, actually, because I was in love with babies," he said. "That's my biggest motivation right now, to be a great father. "But, in the era of technology, we brag and boast that this is our era and we're unable to do anything further than the basic like WhatsApp. I want to be different, I want to learn indepth how to manipulate these things. They're saying jobs are going to be replaced by machines; mine won't, because I'll be creative." Another condition of his scholarship is that he will have to work with Petrojam Limited for three years minimum immediately after graduating, which means he already has job security, a  hallenge for many of his peers.
To them, he had this to say: "University has a lot of opportunities and I strongly believe in networking. I would advise anyone to make good friends, know your friends and your net worth, because your network is your net worth. Opportunity seldom strikes more than once, so utilise them as they come, and just believe that the universe will act in your favour. If you believe that you can, you will."