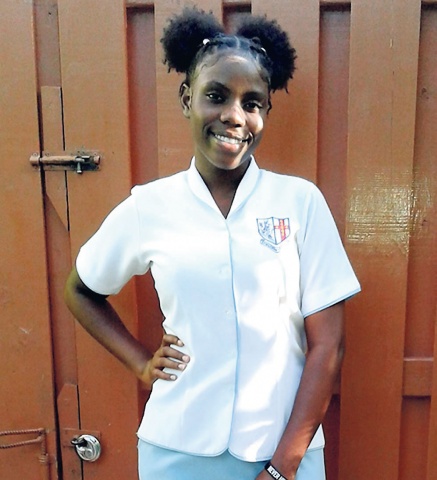 Shy-Anne Harris
As countless students are in the throes of academic study, homework assignments and graded classwork, Youthlink takes the time to share some success stories as sources of motivation for the future. Celebrate the accomplishments of these champions of the recent Caribbean Secondary Education Certificate (CSEC) exams.
Reading about success is always sweet, especially when it highlights the limitless potential of our young people. Success tastes even better for those experiencing it and those witnessing it, when it emerges beyond the shadow of struggle. Thus, for 17-year-old Wolmer's girl Shy- Anne Harris and her relatives, success in the June 2018 CSEC examinations was the sweetest.
"I was so shocked. I didn't even know how to feel because I was not expecting that. I had anxiety attacks in all my exams. I thought I couldn't do it, but God had a different plan for me, so I really had to thank God. This was all that went through my mind at the time, 'Thank you, Jesus, Thank you, Jesus for helping me with this'," Shy- Anne reports to Youthlink.
It's safe to say that hearing she earned seven ones and two twos was like receiving a long-awaited present for the teen. "My mom and my best friend were there, and it was on my birthday, you know! Mommy went all around and she told everyone, because she was so happy."
ACADEMIC GROOMING
The proud Wolmer's girl spoke highly of how her experience at school groomed her academically as well as socially. "It was actually really good. I met a lot of friends there and my teachers were really good as well. You learn a lot, you learn a lot of things that can't change," she declares. Shy-Anne speaks of the Wolmer's culture of standing in classrooms upon the entrance of a teacher, as a sign of respect and etiquette, a practice she has proudly taken with her to her sixth-form life at St George's College.
"It's a habit that I am proud of and I have seen that I have grown as a lady from being at Wolmer's Girls' School. I will take those attitudes that I have gathered with me to my present school and further in my life as well."
Another positive thing about being a Wolmer's girl is in the form of classroom bonding. "My best experience is in chemistry class; you learn together as a team. You had to work in groups for a lot of projects and so forth, and if someone didn't understand in the class, you'd go around and you would help them, and that also helps you as well. I do think that was one of the best experiences I had because of all the sisterhood that we had in class," she explains. According to Shy- Anne, that sisterhood even transcended the classroom and followed her to her current school.
"I wasn't really affected that much by school from first to fourth [form], but in fifth form, the pressure really, really, really went up."
Despite the great experiences at Wolmer's, some struggles before the success still had to be overcome. Those struggles came in varying forms, from teachers being frequently absent and other academic challenges to personal problems and examination nerves.
"SBAs, oh, my God! They incorporated the English and the math SBAs, which were pretty challenging because we had a lot of other SBAs to do," she exclaims. Additionally, Shy-Anne informs Youthlink, "I had to be very consistent with studying, and I had a death in my family during exam time. It was really hard. I also had anxiety attacks during the exams."
SUPPORT SYSTEM
Despite the issues, the exceptional student was able to pull through, with support. When asked to identify her support system, Shy-Anne names, "My community (Campbell Town). I live in a big community. My mother, my really good friends, the school community, my school nurses, and even the invigilators in the exam." However, self-reliance was also an important element.
"First and foremost, I told myself that I had to do this because it's a hit it or miss it right now. So that's how I had to encourage myself. I also stayed focused on God, just for His strength." In response to minor stresses from home and being the oldest of five children, young Shy-Anne reveals, "I just told her (my mother) that I have exams, I have to study, and I know you want to be proud of me, and she understood and cooperated with and helped me out. I help her and she helps me."
EXTRA-CURRICULAR ACTIVITIES
In addition to balancing home and school while approaching her exams, Shy-Anne was a member of the Wolmer's Girls' Heritage Club, drama society, choir, she was also involved in church activities. Such pursuits did not come without benefits, however. "The drama club did actually help us leave our comfort zones. Performing in front of persons is really hard and nerve-wracking, so being in the drama club, I had to step out of my comfort zone and I'm grateful for that opportunity, because right now it really helps, especially in building my confidence and self-esteem."
The sixth-form student now studies literatures in English, tourism management, chemistry and communication studies. Despite her current interest in psychiatry, Shy-Ann states, "I want to broaden [my] knowledge and qualifications because I'm not totally sure of what I want to to do in the future." Hopes to study abroad in Canada are supported by back-up plans to study at the University of the West Indies and the University of Technology after sixth form.
Though she laughingly admits that much of her free time is spent watching Netflix, Shy-Ann asserts, "Now I'm actually getting more involved in school. I want to be active, I want to get out there and venture more into [the] world, also to understand life itself and to meet more people, especially people with different personalities. So I am venturing into more areas pertaining to school, especially clubs and societies."
She intends to join clubs such as ISCF, the choir, tourism club, Key Club and Interact club at St George's College, a school where she has had an "awesome" experience so far.