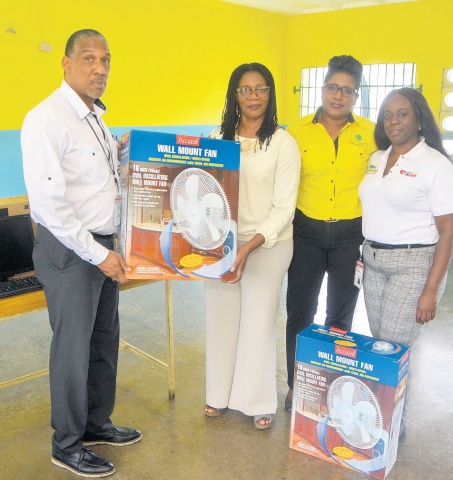 Peter Green (left), director of marketing at Supreme Ventures Racing and Entertainment Limited (SVREL), presents one of eight fans to Dionne Henry-Levy, principal of the Windsor School of Special Education in Greater Portmore, St Catherine. SVREL participated in the Supreme Ventures Foundation outreach programme, Simply Vested In Love, by donating eight fans and two computers to the school. Looking on are Michka Smith, SVREL senior marketing and hospitality officer, and Stephanie Todd, SVL communications officer.
Supreme Ventures' #SimplyVestedInLove outreach programme brought smiles to hundreds of children across the island with a three-day donation spree intended to give 10 children's institutions a bright start to the new year.
In three days, from September 15 to 17 last year, Supreme Ventures, through its foundation, donated $1.2 million in appliances and furniture to institutions across the length and breadth of the island. Under the Supreme Ventures Foundation's unique 'each one help one' outreach programme, members of staff were asked to identify facilities in parishes where retail centres or SVL offices were located and connect with the home to find out their greatest needs.
Supreme Ventures' President and CEO Ann-Dawn Young Sang, who attended the handover at the SOS Children's Village in St Andrew, said the donations were just the beginning of a long-term partnership with the facilities and the children who live there.
"We are more than pleased to be assisting you with these items; however, we want you to know that this is just the first step in a long-term relationship with us. We are strengthening the way we do outreach. Going into the future, we will be building strong partnerships with the homes that we come in contact with and go beyond donations," Young Sang said.
Speaking to Yasmin Russell, fund development and communications adviser, and Marvin Simpson, village director at SOS Children's Village, Mrs Young Sang hinted at launching a mentorship programme this year and highlighted how important such programmes are to youth development.
"I know the power of having a mentor in your corner. There are mentees of mine, who have gone on to great things, who still reach out to me, and I keep in contact with them. For the children in state care, this kind of relationship is even more critical and is something we are hoping to establish before the end of the year," she said.
The SOS Children's Village was only one stop on the #SimplyVestedInLove cross-country donation drive. The effort kicked off in the western parishes with members from the Montego Bay and Savanna-la-Mar retail centres donating large appliances to the Blossom Gardens Child Care Facility and Garland Hall Memorial Children's Home in St James, and the Llandilo School of Special Education and the Women's Centre of Jamaica Foundation in Westmoreland.
The journey continued to the Hill Top Juvenile Correctional Centre in Bamboo, St Ann, Reddie's Place of Safety, and the SOS Children's Village in St Andrew. The tour wrapped up in St Catherine, where the Windsor School of Special Education in Portmore received much-needed fans and computers from a team from Supreme Ventures Racing and Entertainment Limited led by Peter Green, director marketing. There were also stops at the Sunbeam Home for Boys in Bushy Park, Old Harbour, and Strathmore Gardens Children's Home in Spanish Town.