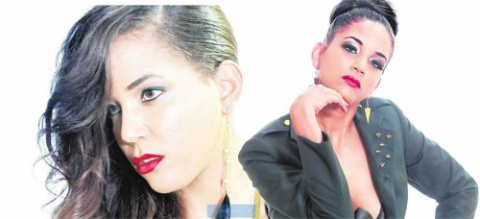 A nine-to -five will not slow down up-and-coming singer Zanni, who remains steadfast in the pursuit of taking her career to the next level. She told Youthlink, "That (my job) is really what funds the music, so I need to have something on the side. Every other time around that is dedicated to music. So after my nine-to-five, until before I go to bed, I can work on a song, I can go to the studio, I can record, and then I have the weekend. I also organise photo shoots, videos shoots and features around my nine-to-five times," she said. 
Born Suzanne Parkins, Zanni (a long time alias) grew up in Braeton, Portmore, and attended St Hugh's High before enrolling in the joint degree programme for hospitality and tourism at UTech and UWI.
The singer/songwriter recalled, "Originally, when I just started to sing, my mother sent me to the church choir, like, 'Oh, you can sing, let's put you on the choir at church!' Then, I focused more on the school choir, went to festivals, and performed at functions in prep school."
She described herself in high school as being "all over the place". She said, "I was interested in track and field, drama, swimming."
Starting out
Influenced by the likes of Whitney Houston, Brandy and Monica, she explained, "I would say I have a very powerful range. Originally, I wanted to leave high school and go straight into music, but Mommy was like, no, I need to go to college."
"When I left school, I moved to St Ann and I was working at Sandals front desk for a little while, and then I left and came back to town and started working with Island Car Rentals," she said.
She admitted that she wasn't fully into music. "It was while at Island Car Rentals that I said this is what I want to do, so I said 'full force ahead'. To begin with, I had no idea what I was doing," she admitted. "I really had no direction in the beginning. I was like, okay, I wanted to sing, what are the steps to do this, I need a song, I need a studio.
"Basically, it was all my friends who knew somebody who could get me a meeting with a producer or something like that. Many of them fell through, but one and two started working with me. For example, Dam Rude produced my debut single How I like it, which was actually a feature with another artiste, Blaze, and that led to a couple performances."
She made her debut at Jonkunoo Lounge and recalled spring break in 2011. "It (spring break) was a huge I-Octane show, because I remember watching him perform; I was one of the earlier slots. A few other little performances here and there, [but] as I grew I started to learn more about the business and how to get where I want, and with help from my other half and manager, Phillip Oliver, and my family and other people whom I've networked with," she said.
"I wouldn't classify myself as a reggae songstress," she said. "It would lean more to dancehall, but with a fusion, because I'm not hardcore dancehall - I like to mix it. You'll hear R&B, a little hip hop, but the skeleton of it is dancehall. I call it dancehall fusion."
She lists her latest EP as opening the most doors so far. "My most recent project Own It, produced by Sydney Thorp, got a whole lot of online recognition; the song is being played in Germany."
Locally, she said she would like to work with acts like Konshens, Sean Paul, Spice and producer Sly, based on her sound.
About the speculations of buyouts in the industry and overnight sensations, Zanni told Youthlink, "I believe everybody has their own path and methods to doing things. Some things are going to be harder than some, but I really believe it just boils down to putting in the work."
She continued, "Productions that are put out there that seem to blow up like fire, they are good productions. It's not like they're sloppy and they just run the place; they're very good productions. What is behind all of it is just promotion; the more promotion you can do for a song is the bigger it will get."
What has Zanni been up to lately? "I'm working on putting together an EP, I'm working on a summer song, so I'm just really excited about that right now," she said.
Find Zanni on social media: @ZanniMusic everywhere. 
zanni