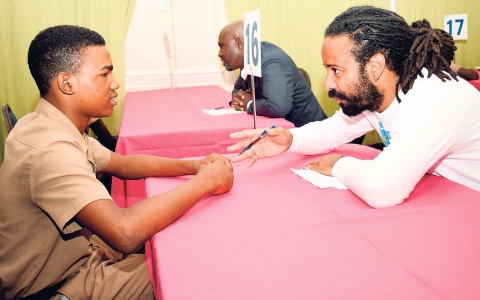 Ricardo Brown, ninth-grade student at Holy Trinity High School, sought guidance for his football career from Marvin Hall, founder of Halls of Learning.
'SUPPORTING A nation of champions'  is the theme that guided the recently  concluded Boys in Education Week  presented by the British Council. The week of  activities kicked off on Monday, April 30, and  ran through to Thursday, May 3. Among the  scheduled activities, the week featured an  empowering educator's day, parents' seminar, a  mentoring workshop, and a career day.    
Students from 20 schools across the island,  at different levels of their education, turned up  in their numbers to take advantage of all the  week had to offer. The event, proudly  supported by the Jamaica Teaching Council  (JTC), is in its second staging. Olayinka  Jacobs-Bonnick, country director at the  council, says it was the success of last year that  inspired this year's events.  "Last year was somewhat of a pilot, but what  was unique about it was that we put the young was unique about it was that we put the  young people at the centre of it and ask  them to tell us what they wanted," she  said.    
Need for role models  
Among the strong points coming out  of last year's discussions, Jacobs-  Bonnick highlights a need for role  models as most urgent. She said, "It's  one thing to hear a single mother say I  need a role model for my son, and for a  teacher to say we need more role  models in our communities. But, it's  another thing when young boys in  grades five to nine say to you, 'Yes,  Miss, my dad is a gangster and I don't  want to be a gangster'. That one  snippet of information summarised the  week, last year."  With the recommendations from this  event, the council is looking to  materialise a three years' Boys  Mentoring Programme to be launched  in September in partnership with the  JTC.    
"We don't just want a week of  events," Jacobs-Bonnick said. "We need  something that's rooted and grounded  in the issues that they have identified  and raised, and we need to find a way  to package all those issues and create aprogramme that addresses them in a  holistic way."    
HOW WE RAISE OUR BOYS
Timar Jackson is one of the mentors  who shared his story with the full room  of inquisitive young men at the  mentoring seminar held on May 2 at The  Jamaica Pegasus hotel. Jackson  encountered many adversities in his  journey to success, a story he proudly  shares today.    He told Youthlink, "A big part of the  problem we're having has to do with how  our males are raised. Dealing with the ills  we have in society starts with dealing  with the issue of how we socialise our  males. We have to get them in the  mindset to constantly evaluate the  different narratives of masculinity."  A graduate of Norman Gardens  Primary and Junior High, Jackson  attributes a late start to him being placed  at the non-traditional Vauxhall High in  Kingston. Determined to bloom  wherever planted, he matriculated into  sixth form at Ardenne High before  winning the Jamaica Scholarship to  attend the University of the West Indies,  where he studied actuarial science. He  pursued later studies in the United  Kingdom as the 2014 Rhodes Scholar.  According to Jackson, "Many of our  households are headed by single-parent  mothers and the boys tend to not have  that example in the home to follow.  They need a criteria as to what route to  take."    
MENTORS WILLING
Including Timar, Mentorship Day saw  20 C-Suite executives dedicating half of  their day to speak to the groups of boys.  Project Manager Nadine Newso describes getting "strong response  from the males in society".  About the future, she told  Youthlink, "At the British Council, we  will be creating a database of males in  the society who have achieved success  and say to them, come on board with  us, offer yourself to mentor a boy."  She highlighted, "The council has  its own child-protection policy in  place that we would encourage every  mentor to be trained in before we  match them with a school or a boy.  This is to encourage them to follow  on, keep track of the boys, ensure they  stay in school and guide them towards  key goals."