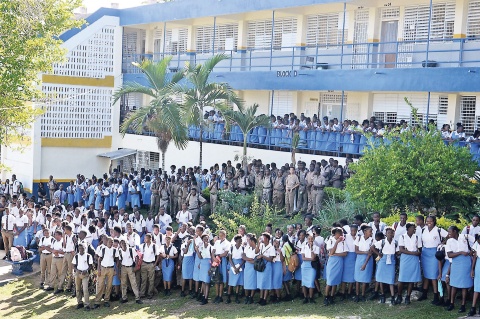 This is a section of the student body at devotion.
Population growing faster than classroom space
It says a lot for a school when the student population grows at a much faster rate than the school can afford to build classrooms, and that is exactly what is happening at Iona High School in Tower Isle, St Mary. When Presbyterian minister, the Reverend Herbert Swaby, and his wife, Gwendoline, founded Iona High and Prep schools in 1949, the high school started with four students. It was the same year that Abe Issa built the first hotel on Jamaica's north coast, the Tower Isle Hotel (now Couples Tower Isle), located just a few hundred metres west of the school. The institution itself is on a plateau that offers a view of the beautiful Caribbean Sea.
Iona High School has expanded over the years but, being a private institution, it never experienced the type of growth the founders would have wanted. Nearly 50 years later, in 1998, the student population was still low, numbering around 80. The school then received government funding and things began to change.
"We became government grant aided in 1998 and we have grown since then," explained vice-principal Joan Peart- Armstrong. "When I came here in 1998, we had about 80 students. Since then, we have grown not only numerically, but in terms of infrastructure, and our offering, academically, has improved as well."
In 2007, a new block was built by the Ministry of Education. It featured five classrooms, a science laboratory, an art room, a staffroom and bathrooms for students. This enabled the school to admit additional students. At 550 students, the increase was nearly 700 per cent from the 1998 figure.
Currently, there are 840 students on roll, representing another decade of solid growth in student numbers. The classrooms don't match up, however. Classes are being held under tents and under trees, in some instances, for lack of sufficient classroom space. Also, there is no auditorium to accommodate a general assembly, with students gathering in front of the main classroom blocks and on the balcony of the first floor for devotion each morning.
"That is probably one of the most critical needs that the school has now. There is a shortage of space – classroom, auditorium space, so there is no space for them to assemble in large numbers," board member Patricia Colbourne-Whyte pointed out.
"For classroom space, they have to be using everywhere: library, labs, tents. That's unacceptable. So, I am hoping that we will see the beginning of the expansion of the school. If we don't have a place where the students come and are in a comfortable environment, then they can't do their best and I think that the Ministry of Education owes us that."
10 important things about Iona High School:
1.Iona High School is a nurturing environment. We see the need for any student who comes through, also the staff, to be in an environment where care is taken of each other.
2.Performance is another aspect. We've watched the school grow over the years in academic performance and, as a result, we can speak about our head girl this year who has gotten seven ones and twos. Our head boy, who was chosen from grade 10, in whom we saw the necessary leadership qualities, sat two subjects, maths and POB, and was able to get a grade one in maths and two in POB (while still in grade 10).
3.We offer additional educational opportunities to students who have left other schools, and even some of ours, in the Career Advancement Programme.
4.We will soon launch our occupational associate degree course.
5.Leadership: Our board is no 'quashie' board. It is one that is giving the right support under the leadership of a former chief education officer, Mr Jasper Lawrence. The teachers are supportive and we can have a dialogue. It is a home away from home.
6.We have created a system here where our students are cultured in a homelike fashion, in that once they see their teachers at grade seven, those teachers as form teachers follow them right up to grade 11 so that they feel comfortable.
7.I have a very supportive ancillary staff. I will not forget those people because of the ambience of this place. I have a very supportive administrative staff in the office; they are very approachable.
8.We have a working and vibrant Parent-Teacher Association (PTA). Parents are willing to come to PTA meetings. Granted, we would want something better, but they have been rising to the occasion. I want to commend the PTA president, Pastor Oswald Jarrett, who has been spearheading it for this year.
9.My vice-principal is supportive, we have good senior staff and we work in tandem.
10.We have a nurturing environment at Iona. When we have students and they are really challenging, we do not shove them off on anybody else. The board is supportive and, as a result, we are able to carry those students full-time in Iona High School.
– Principal Melva Humes-Johnson