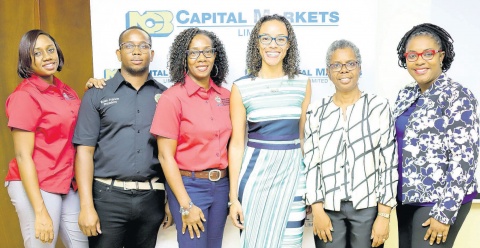 Representatives of the Mona School of Business and Management (MSBM) and National Commercial Bank (NCB) at the launch of the NCB/MSBM Student Investment Challenge. From left: Stephi-Ann Wray, administrative assistant, Mona School of Business and Management; Ruan Francis, president, UWI Mona Young Investor's Club; Janice Henlin, director of marketing, MSBM; Tracy-Ann Spence, VP of investments, NCB Capital Markets; Dr Twila-Mae Logan, lecturer, MSBM; and Tanya Watson Francis, general manager, treasury and correspondent banking, NCB.
MONA SCHOOL of Business and Management (MSBM) has partnered with NCB Capital Markets Limited to launch the MSBM/NCB Student Investment Challenge. This is an innovative programme geared towards equipping university students with practical knowledge and experience in investment management.
The challenge, which was launched during a Young Investor's Club meeting held last month at the Mona School of Business and Management, UWI, Mona campus, will see students participating in an equity challenge. Open to both undergraduate and graduate students of UWI, Mona, the challenge will include the preparation of investment reports on a publicly traded firm from the Jamaica Stock Exchange.
Students will work in teams to analyse the company's financial statements, identify the risks associated with that company, and produce a report which recommends whether to buy, sell or hold shares in that company. Students will also have access to the MSBM financial lab outfitted with Bloomberg technology, which will help them in accessing and interpreting the financial data and all other data related to trading on the capital market.
The winning teams, at both the graduate and undergraduate levels, will receive bursaries/grants of up to $2 million to be shared equally and paid towards their tuition, or to an NCB Capital Markets account. Students from the winning teams will also be given the opportunity to participate in NCB's Innovation Internship Programme and will receive a tour of the institution's agile lab, NCB Capital Markets/Treasury, as well as NCB's Corporate Banking units.
In her opening remarks, Janice Henlin, director of marketing at MSBM, lauded the partnership with NCB Capital Markets. She stated that this is evidence of MSBM's evolution as a solutions-oriented institution, demonstrating the institution's commitment to providing students with a comprehensive learning experience through world-class academic training, and opportunities for students to practically apply the training they receive in the classroom.
Speaking to a packed lecture room of interested students, Tracy-Ann Spence, vice-president of investments, NCB Capital Markets, noted that the partnership with MSBM was born out of an interest in developing graduates and bridging the gap between leaving school and being ready to work with institutions such as NCB Capital Markets.
COMMITTED TO NURTURING
She explained that her organisation was committed to not only lead in the financial sector, but to nurture the next generation of investment professionals, and noted that programmes such as the Student Investment Challenge provide an opportunity to foster and promote growth and stability not only for the sector, but, by extension, the Jamaican economy.
"Our involvement in this challenge represents our genuine interest in young adults and the role they play in contributing to the development in the industry. By participating in this challenge, students will gain skills which are important to our business, and it will give them the opportunity to appreciate the value of what we do at NCB Capital Markets," she said.
Host of the event, The Young Investor's Club, UWI, is a student organisation which provides investment education to students from the university, teaching members investment and money managing strategies in order to assist them in achieving financial freedom.