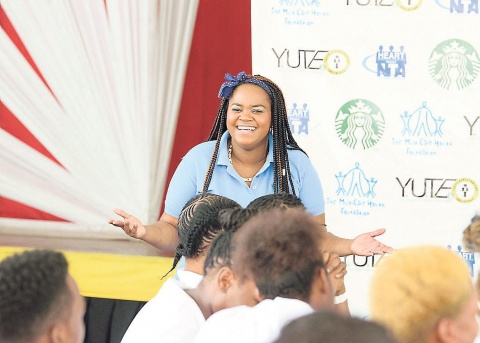 THE MULTICARE Youth Foundation (MYF), through its Starbucks YUTE Work Project, kicked off life skills training for a cohort of 35 young adults recruited from inner-city communities in Kingston and St Andrew. The project, which aims at improving the employability of at-risk youth, embarked on its week-long training at the Scout Association of Jamaica between September 3 and 11.
The one-year project is a collaborative effort of MYF, Starbucks International Foundation and HEART Trust/NTA. This component of the project focuses on providing young people with the requisite soft skills that lead to personal and professional growth, particularly in the area of employability. Utilising an internationally renowned Life Skills Curriculum titled 'Passport To Success', the training sessions are aimed at equipping the youth to enter the labour market and navigate real-world challenges.
"There are several aspects of the training that allow participants to express themselves through dramatisation and role playing in an effort to build their self-esteem. We want them to speak up, step out of their shells and gain confidence," said Sharlene Brooks, project officer at MYF.
Brooks noted that the YUTE Programme is a part of the foundation's mandate to uplift at-risk youth within the inner cities. "We want these youth to know their true worth; this starts with them seeing that someone believes in them and has invested in their advancement."
Brooks made an appeal to persons wanting to make a positive impact on a young person's life, including corporate entities looking to offer mentorship, to contact the MYF office. She also encouraged the young adults to embrace the project which also includes training from the HEART Trust/NTA. Graduates of the Starbucks YUTE Work Project will earn a Level 2 NVQJ certification in food and beverage from the National Training Agency.
"I am very impressed with the growth of the project and the impact it is having on these youth," said Nicola Groves, marketing coordinator at Starbucks Jamaica. "We are looking forward to them excelling in their selected fields as we continue to support and make them marketable."
Through the Starbucks YUTE Work Project, unattached youth will be given opportunities to be trained in vocational areas, matched with mentors and supported for a period of one year. The project will also facilitate job placement and track the employment of participants.