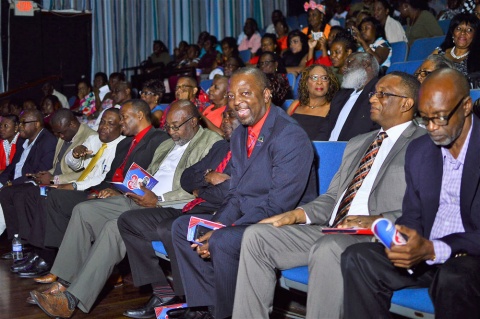 School says goodbye to outgoing principal
Not many teachers will ever spend 37 years in one educational institution, yet this is part of the dedication of Aston Messam, the outgoing principal of Bridgeport High School. To honour this giant in education, the school hosted a recent appreciation event in the form of an 'Evening of Excellence', on Thursday, February 22, at The Courtleigh Auditorium, New Kingston.
At the appreciation function, Ashley House (yellow house) gave a performance of a lifetime as the duo of Lecia Smith and Shaniqua Williamson danced in 'Sir Messam's' heart. Waterford High School also gave Sir Messam a 'belly full' of laughter with an original piece titled President Messam.
Over the years, Messam presided over many 'firsts' at Bridgeport High School:
The first and only school in St Catherine to win the Manning Cup/Walker Cup double (2001).
The sixth-form programme, his pride and joy, which was implemented in 2008.
School stalwarts include track star Jazeel Murphy, a CARIFTA Games 100m gold medallist in 2011; Jamaica national football player Darren Mattocks; and Shantall Hamilton, MD.
Acting principal Beverly Harris said she has learnt much from being Messam's understudy. According to her, "Winston Churchill once said, 'Some people dream of success while others wake up and work at it'. Principal Messam does both. He is a true visionary and his vision for the school is guided by its motto: 'Total education for the total personality' ... Under his guidance, the school has excelled in academics, sports, the performing arts and vocational skills. The number of passes in CSEC has grown significantly, so much so that in 2008 a sixth-form programme was established."
Dorothy Minott, a former Parent-Teacher Association president, acclaimed, "He had great ideas; it was a pleasure to work with Mr Messam, and he accepted suggestions and made dreams into reality. I applaud the work he has done for Bridgeport High School, and I wish him all the best in his retirement."