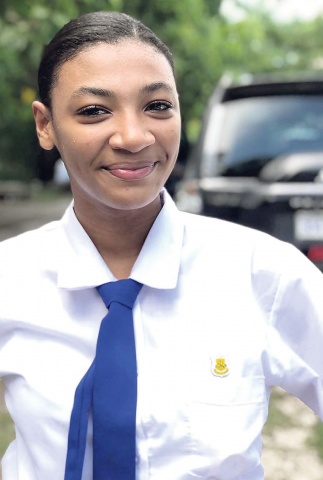 Akilah Harris of Eltham Park, Spanish Town, is a third-form student at Immaculate Conception High School. She has a gift of singing. This talent was uncovered in 2016 when Harris first attended the Avant Academy of Music summer camp.
Harris explains that she loves to sing and does it wherever she goes; however, she sings mostly at church. "I started singing at about age eight and I haven't stopped since," she declares. "I express my thoughts better when I sing, and it helps when I become too stressed or overwhelmed." Though she is interested in learning other musical instruments, especially the piano, Harris has decided to fine-tune her natural gift of singing by training an hour and a half each day.
With encouragements from friends and other students at school, her family and trainers, Harris can achieve her dreams. She expresses interest in the soul/ R&B genre similar to famous acts like Adele and John Legend.
This kind, fun-loving 14-year-old explains that singing is very important to her and helps her more than anything else. "I gravitate to the words, the beat and the harmony of the songs. I love every aspect of singing," she says.
One of her trainers from the Avant Academy of Music summer camp, Ramon Watson, states that he is impressed with her because of how her vocal abilities and talent stood out at that retreat. He goes on to explain how she gets lost in her singing. "Sometimes she will feel blocked, but when she gets in the zone, Akilah really sings. She has a very mature voice for her age and can definitely go as far as having a musical career," Watson states.
True to form, Harris was the lead singer in a group that represented the academy on 'CVM at Sunrise' in 2017. Her interest in pursuing music as more than a hobby is evident, in that she asked her trainer for guidance on how she could juggle being an artiste without losing her aspiration of being a doctor. Watson assured her that it is possible to pursue both, but it will mean a lot of hard work.
Avant Academy of Music is an institution that helps students 'focus on their dreams and goals' by offering private or group music lessons to those who may want to pursue a career in music. Boasting an array of talented tutors, the academy's summer camp offers a complete band experience with special attention on the different types of guitars and voice.