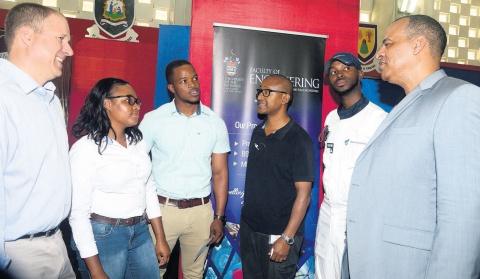 Dr Paul Aiken (right), dean of the Faculty of Engineering at the University of the West Indies (UWI), Mona, had the attention of Kevin Franz (left), senior VP at New Fortress Energy (NFE) during an LNG presentation at the campus during its recently held Research Day. Also in the photo (from second left) are Sasha Lewis, recent graduate of the UWI and now project engineer at NFE; Zoran Watkis, project engineer at NFE and recent graduate of UTech; Evan Hubbard, senior lecturer in the Faculty of Engineering and Applied Technology at the Caribbean Maritime University; and Danar Royal, marine operations coordinator at NFE and a recent CMU graduate.
If the sky is truly the limit, then 24-year-old Sasha Lewis has one simple message – getting to the sky does not happen overnight. "It takes hard work, determination and believing in yourself," she noted. "These are qualities I've had to apply throughout my life, to date, and especially while studying at UWI, majoring in electronic engineering, a field that would generally be dominated by males."
It was the constant probe as to why things work the way they do that fuelled the Clarendon-born's desire for all things invented. "I always had an interest in taking things apart to see how they work," she said. "My toys, for example, as beautiful as they were, I was more interested in what made them move."
FROM PASSION TO PROFIT
In her final year of university, Sasha received a scholarship from New Fortress Energy, a company that delivers turnkey solutions for critical energy projects. "The scholarship came at the right time and allowed me to focus on my academics instead of thinking about my financial predicament," she recalled. She was then employed by the company, a few weeks before her graduation, as a project engineer, a post she has held for the last six months. It has turned her passion into something she could profit from in many ways.
"I want to make a lasting and positive impact on my country, so choosing New Fortress was a no-brainer," she said. "The demand for natural gas is increasing at a rapid rate, which is proportional to the prospect of growth for the company across the world. Transitioning to natural gas is a significant development for Jamaica and I'm proud to be part of the team that is writing such an important history for my country."
She told Youthlink, "As a project engineer, I'm responsible for identifying project phases and elements, reviewing bids from contractors, determining project schedules by studying project plans and specifications, coordinating with contractors, controlling project costs, maintaining project database, and contributing to overall team efforts."
Sasha is hopeful for the future. "I believe that engineering will open a whole new world of possibilities and opportunities for us, and across the world, for that matter," she said."For example, when I started studying at UWI a few years ago, I had no idea that Jamaica would be looking to transition to LNG or that I'd be applying my skills and knowledge in electronics engineering in this area in my country."
WE ARE OUR GREATEST ROLE MODELS
When asked to identify her biggest role model, the usual names of influencers for young women, globally, did not depart from Sasha's lips.
"There are many iconic and inspirational people across the world that I admire," she admitted. "However, the idea of a role model borders on the concept of living vicariously, which makes us believe that our greatness must be equivalent to that of someone else's."
She said, "I think that in the 21st century where everything is considered 'goals', it's good to be cognisant of our own greatness. We are our greatest role models as we embrace what builds our character; (with) that said, I'm eternally grateful for my family, as they've helped to mould and shape me from birth to this very day."
Traditionally, engineering could be considered as one of those fields that are distinctly male-dominated; yet Sasha did not just admire the profession, she conquered it. In her final year at university, the Glenmuir High alumus made the Dean's List, scored all As and graduated with first-class honours.
SETTING PRECEDENT
"I feel extremely elated and I hope I am setting a precedent which says to the rest of females in Jamaica, young and old, that it is okay to delve into something different, and that we can achieve anything our male counterparts can – simply because we all have something to offer," she said. "At the end of the day, as long as you put in the hard work, believe in yourself and passionately go for what you want, then the sky is the limit, regardless of your gender."
To girls considering a career in engineering, Sasha advised, "Now is the time to go after your dream – there's space for everyone."She said, "There are several notable females in Jamaica and across the world who have and continue to excel in engineering. So while the gender gap is still not where we'd like it to be, females in engineering is not a new phenomenon."