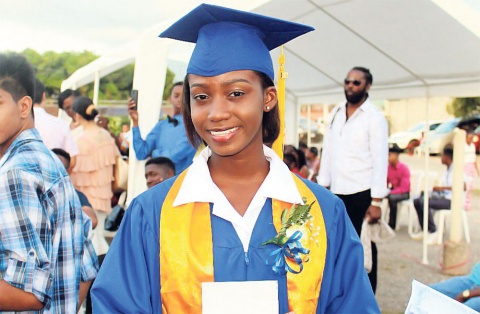 FOR 17-YEAR-OLD Sarrah-Ann Allen, going beyond the ordinary is something she often does in just about every aspect of her life. The lower sixth-form student at Ardenne High has copped 10 ones at the Caribbean Secondary Education Certificate level, plays two sports, and is actively involved in school and community life, leaving nothing to chance and strategically charting a solid future for herself.
"Growing up, my parents inspired me to go beyond the ordinary, so from I was younger I was always involved in sports and doing well academically," she tells Youthlink. Living with both parents and a younger brother in Green Acres, Spanish Town, Allen says the Church has also played a vital role in her upbringing. "In Sunday school, we are always taught what it's like to present in front of a crowd and to get used to it from that time." She
continues, "Prayer helps in many ways. I can be feeling down and so out of it, and once I whisper a prayer, then God will help me to get through it. There's nothing that can beat prayer." 
IN IT TO WIN IT
Allen, poised and naturally articulate in her responses, tells Youthlink of how she mused on the 94.7% average which earned her a place at Ardenne High in her Grade-Six Achievement Test. "I wanted the 98 that everybody was getting. I decided that I had to turn that around and turn it into something good so I could be on top at Ardenne."
Over time, it was indeed the competition at the prestigious institution that kept her going. "After being around such overachievers who really want to be somewhere in life, it forced me to re-evaluate my life and push forward."
Now, as well as being focused on her academics, she is also pursuing tennis and netball. About her decision to take up these sports, she said, "Sports are really my safe zone from all that's happening at school, so when I feel stressed, when I'm overworked, I really enjoy playing sports." She is totally in agreement with the Ministry of Health's initiative to implement the 'Jamaica Moves' campaign in schools, regulate school lunches, and possibly extend the years of doing physical education in high schools. According to Allen, "You have to have something that you can rely on, and sports teaches how to work well with other people who have different  personalities.Many students, after third form, don't engage in physical activity, and that can be detrimental to their health."
A PROUD MOMENT
For this overachiever, a recent trip to New York City for a model UN Conference is one of her prouder moments.
"I was one of only three black kids to win a Diplomacy Award out of thousands of white kids that were there," she said. "I got the award because I depicted a level of respect for the other cultures, and I took charge in the  room and ensured that everyone cooperated in order to achieve our goals."
With 13 other schoolmates, Allen says the weeklong trip afforded her the opportunity to travel for business and, as a cool bonus, she experienced snow for the first time. "It was cold, but at the end of the day, we went there to achieve one thing and that was to benefit from the conference; I think all of us did."
FUTURE PLANS
Looking ahead, Allen sees a future in medicine. "I read Ben Carson's book and I've always had a desire to help people, whether by teaching or physical help, so that's why I chose medicine." She says she intends to  matriculate into the University of the West Indies (UWI) before pursuing studies overseas. Until then, when she is not in the books or on the courts, Allen is your average teenager who enjoys watching football, hanging out with friends and going out.
"I LOVE watching Netflix; Quantico Revenge is a must-watch!" she added.
To other young dreamers like herself, she says, "Life is filled with many challenges. There are always going to be people who are competing with you to achieve the same goals, so if you really want to achieve yours, put your best life forward and be the one to take it."