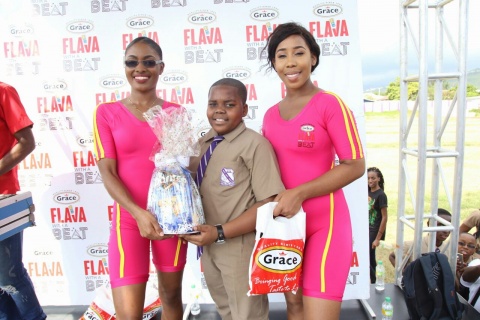 In Jamaica, when we think about the month of March, we immediately begin thinking about one of greatest shows on this side of the hemisphere, the ISSA/GraceKennedy Boys and Girls Championship! This year, ISSA Boys and Girls Champs Title Sponsor, GraceKennedy, may be heading to a school near you on the Grace 'Flava with a Beat' Champs School Tour.
On the heels of launching their latest campaign, "Flava With A Beat" featuring dancehall entertainer Ding Dong, the Grace team under the theme "Positive Expressions," will be making stops at several competing schools each week leading up to Champs 2018 to engage and energize the entire student body through on the ground activities including product sampling, live music, friendly competitive activities and giveaways! 
The Grace 'Flava with a Beat' Champs School Tour kicked off on Friday February 2nd at the school with the most overall wins at ISSA/GraceKennedy Boys and Girls Champions, none other than, Kingston College. After school, the student body made their way to the field of KC's new Byron Bachelor Athletics Complex for an afternoon of excitement with Grace brands Lishous, 876 Water and Grace Food Drink! 
The Baddest Crew
MC Badda Bling brought with him the baddest dancers, the baddest lyrics and the baddest vibes! The students gathered around the stage to watch as friends and classmates competed in dancing competitions, a lyrics clash and our very own Youthlink competition, for the chance to win gift baskets, movie tickets and more! When they needed a break, Grace was there to quench their thirst with Lishous, 876 Water and Grace Food Drink and quell their after-school hunger with Grace Corned Beef and other delicious options from Grace Kitchens. 
With nutrition playing such an important role in the overall training and student life, Grace's newest campaign "Flava with a Beat" aims to make good nutrition fun and exciting. 
"This season we want to leverage our sponsorship by visiting the schools across the island; bringing the vibes and bringing the FLAVA. We just launched our new campaign "GRACE … Flava with a Beat" so we are taking the FLAVA to the schools leading up to Champs. This year we have taken it to another level in terms of not only giving those 4 days of Champs the Grace experience but we're taking Grace to the schools. We are taking our brand to the schools so they can touch, taste and feel the Grace experience," stated Grace Senior Brand Manager, Beverages, Karen Willis-Mussington
Nutrition Tips from Olympic Bronze Medalist Hansle Parchment
On location, we spoke with Hansle Parchment, Grace Ambassador and KC Old Boy whose athletic career began at Champs when he was a student. Here are some nutrition tips coming from the Olympic Bronze medalist himself: 
1. Stay hydrated! - "One of the most important things is to keep hydrated. And when we say hydration it's not just drinking water, we need the hydration salts and electrolytes as well."
2. Maintain a balanced diet  - "Eat within 45 minutes after finishing training, its important to put back the substance that you lost or burnt. Eat regular meals - breakfast, lunch, and dinner. But for dinner, don't eat too heavy or too late at night."
3. Sleep! - "It is so important to get good rest and sleep."
4. Muscle Recovery is important! -  Ensure proper recovery and stretching before and after training to get rid of lactic acid build up in the muscles or ease a cramp or injury.  
"Once you can achieve that balance - all you need to do is train hard," Parchment stated. 
Did You Know?
Did you know that the Gleaner Youthlink was the first to do an interview at the team's new Byron Bachelor Athletic Complex? Cool right! We met up with marketing coordinator for KC, Mr. Richard Bowen to get the inside scoop on the how KC has been preparing for this year's Champs. According to Bowen, the team has been training hard from as early as July of last year and now with Champs fast approaching they are working on their sprint and reaction training specifically. 
"In terms of nutrition we are doing a number of things to prepare. We have several brands on board, including Grace, to help support our nutrition program for the athletes along with our nutritionist," stated Bowen.
5 Fun facts about KC Champs Team from Richard Bowen, KC Marketing Coordinator:
The Grace 'Flava with a Beat' Champs School Tour was the first activation to take place at the new Byron Bachelor Athletic Complex 
KC is gonna win Champs 
They are expecting great things from Ari Rogers, Ugandan athlete who runs 1500m, 3000m, 5000m and 10,000m. 
Jhauvan Matterson - watch out for him to come back strong this season 
Relay teams will do very well 
The Grace "Flava With A Beat" Champs School Tour is sponsored by Grace Franks, 876 Water, GRACE Food Drink and Grace Kitchens as well as media partners ZIP FM, The Gleaner Youthlink and SLEEK.
See you next week as we travel with Grace on the Road to Champs! Next stop: Excelsior High!