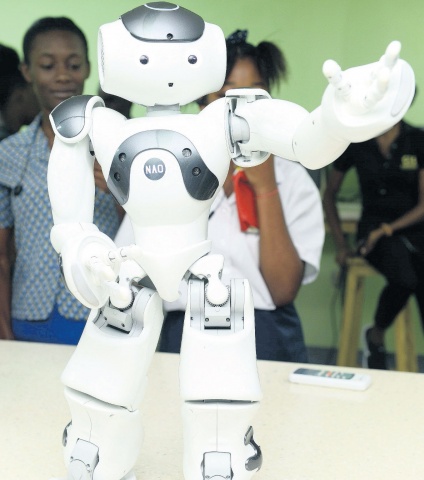 Bob, a humanoid robot, makes an engaging presentation to the fascination of students from the Women's Centre Foundation of Jamaica during the International Day for Women and Girls in Science.
A GROUP of 25 students from the Women's Centre Foundation of Jamaica (WCFJ) in Mandeville participated in a specially designed technology tour at the Northern Caribbean University (NCU) for the International Day for Girls and Women in Science.
The initiative was part of IGT Jamaica's continued efforts to expose the students from its After-School Advantage Centres islandwide to new ideas and career opportunities in the dynamic technology industry. IGT Jamaica conceptualised the tour, seeking NCU's partnership in the effort.
With the tour being specifically arranged on a day that recognises the important role of women and girls in science, the students from WCFJ eagerly learnt new perspectives and absorbed enlightening information on the latest developments in this exciting field.
The students, who are 14 to 18 years old, toured the NCU lab and learned more about the fundamentals of information technology, with a focus on aspects of networking and how the Internet works. The department also demonstrated its newest thrust – devices enabled by artificial intelligence (AI), as well as a robotics display. They also saw drones in action out in the field, in a large, open space.
The students were delighted to interact with the humanoid robot 'Bob,' who provoked amusement and fascination with his actions and conversation. After engaging in a thrilling roller-coaster adventure through virtual reality (VR) technology, one student excitedly shared her ambition to design her own game. Both teachers and students were actively involved in using the technology, including flying the drones and learning how to operate them safely.
"I really enjoyed interacting with the robots and the VR technology. It was an exciting experience and I know I'll be pursuing a career in technology - as a programmer," vowed a student.
UN Women notes that science and technology play increasingly important roles in nations' development, and almost all future jobs will require information and communications technology (ICT) skills. However, according to UNESCO statistics (2014-2016), only around 30 per cent of all female students select fields related to science, technology, engineering and mathematics in higher education. Globally, female students' enrolment is particularly low in ICT (three per cent) and less than 30 per cent of scientific researchers worldwide are women.
However, Assistant Professor and Deputy Chair of NCU's Department of Computer and Information Sciences, Damion Mitchell, is seeking to change all that.
"At NCU, we always seek to promote women in IT," he stressed. "About 30 – 35 per cent of the department's cohort of 260 students are women and, in fact, women are among our top performers."
General Manager of IGT Jamaica Debbie Green expressed her delight at the success of the tour.
LIGHT A SPARK
"At IGT Jamaica, we recognise the importance of getting our young women excited about information technology," she said. "This is a field that already has so much to offer and is always developing and evolving. We greatly value our relationships with Women's Centres across the island that have received After-School Advantage computer centres. On this special day, we were happy to offer the students in Mandeville this opportunity to see for themselves the broad spectrum of topics and disciplines that IT covers. We hope that this will light a spark among them, as they work towards building their lives and careers. Educational and career opportunities are at the heart of what our After-School Advantage Centre programme is about."
Director of the Mandeville Women's Centre, Mrs Dhalia Johnson, expressed her appreciation. "The Women's Centre of Jamaica Foundation in Mandeville was delighted to partner with IGT and NCU for this educational technology tour. We want to thank IGT for their continuous support to the centre since 2014."
According to Mrs Johnson, the tour was in keeping with the goals of the centre, which "caters to the total well-being of the students," she observed. "We take a holistic approach in our intervention with our girls. This was one such project to help guide the students, allowing them to explore a variety of career choices. In a globalised world, a career in information technology is always in demand and encourages entrepreneurship."
"We are now in the Fourth Industrial Revolution," Mr Mitchell commented, pointing to this new digital era as one of expanding opportunities, both for study at the tertiary level and at the professional level.
"This was a very rewarding visit," exclaimed Mrs Johnson. "We want to thank IGT Jamaica for initiating the tour."