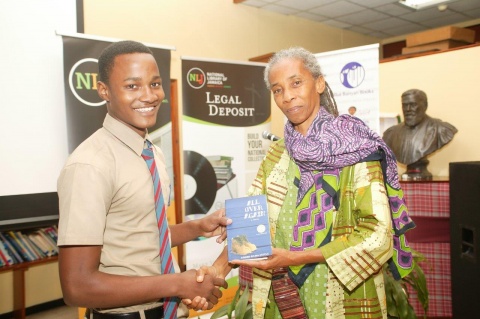 On Thursday, February 1, 2018 at 10 a.m. the National Library of Jamaica joined millions around the world in celebrating #WorldReadAloudDay2018. The celebration took place in the Daphne Douglas Reading Room of the National Library of Jamaica. Authors Owen "Blakka" Ellis and A-dZiko Simba Gegele read to the gathering which included students and teachers from St.Hugh's and Holy Trinity High Schools. Guests were treated to a tour of the National Library of Jamaica to culminate the day's activities.
Beverley Lashley, National Librarian/CEO said that "reading-aloud promotes language development and early literacy skills." The day's activities included poetic performances by Ras Jaja and Abebe Payne which stirred the audience's enthusiasm with rhythmic lyricism, adding the cherry atop of this literary feast.
Featured works from Blouse & Skirt Books were deposited by Tanya Batson-Savage, Publisher – Blue Banyan Books included:
Children of the Spider (2016) by Imam Baksh, winner of the 1st prize – Burt Award for Caribbean Literature, 2015,
Dancing in the Rain (2016) by Lynn Joseph,
Dreams Beyond the Shore (2017) by Tamika Gibson,
Girlcott (2017) by Florenz Webbe Maxwell
Participants in the day's activities engaged in discussion surrounding the theme, "What does reading mean to you?" There were many answers and two outstanding students Aaliyhana Bartlett, St. Hugh's High School and Rico Phillips, Holy Trinity High School won the surprise question and answer segment and were awarded the book "Pocomania and London Calling" by Una Marson published by the National Library of Jamaica and Blouse and Skirts Books; an imprint of Blue Banyan Books.
The day's event sought to promote language development and literacy while inspiring a great love of books among young Jamaicans. The National Library of Jamaica continues to raise the bar in promoting reading aloud across Jamaica.