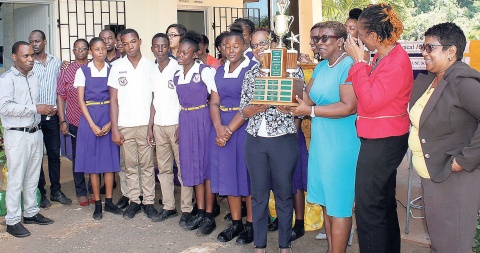 St Bess school placed first in Junior Achievement Company of Entrepreneurship Programme
Waste management in St Elizabeth has deteriorated because local authorities are running out of space and resources to manage waste. This is how students from St Elizabeth described the reason for their product development.
Rs Crafters, a grade-nine student run company, was one of 41 high school companies which completed the Junior Achievement Company of Entrepreneurship Program last school year. The student companies chose their company directors through an election process, and each company had a CEO and vice presidents. The learning modeled a real business, wherein they came up with a solution to a market problem. The Rs Crafters company developed a waterproof bag made out of recycling material and lined with cloth. The company states their product is "a perfect example of the recycle-related terms: reuse, reduce and recycle".
More than 100 school-run companies completed this hands-on, in-class programme. Top students spent five days in residence at the University of West Indies. The students got the opportunity to showcase their products at an expo at Emancipation Park. Student companies prepared their business, marketing and financial plans for which they were judged using a matrix. Nain High School came out on top and was declared the winner for 2017-2018.
Dr Nadine Leachman, regional director for Region 5 of the Ministry of Education Youth and Information, presented Rs Crafters team and principal Vandolyn Foster with a cheque $500,000 for being the Company of the Year winner. Students from this programme were part of an entourage of seven Jamaican students who went to Mexico for the global youth forum. On November 24, three students from Nain High, accompanied by their teacher and principal, traveled to Lima, Peru, for the Junior Achievement Americas Regional Company of the Year conference.
JA Jamaica is a registered non-governmental organisation and a member nation of Junior Achievement Worldwide, the world's largest organisation dedicated to educating students about work readiness, entrepreneurship, and financial literacy by showing them how to generate wealth and effectively manage it; how to create jobs that make their communities more robust; and how to apply entrepreneurial thinking to the workplace.