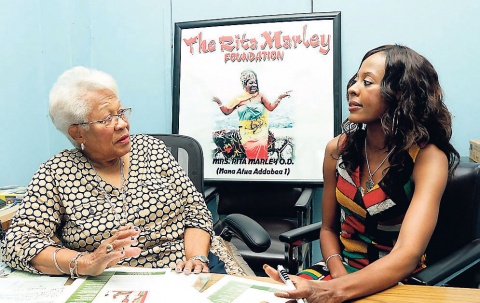 Mrs Merlene Heholt (left), managing director, Jamaica Fire Equipment Ltd, and Ms Rosemary Duncan, manager, Rita Marley Foundation (Ja).
For four consecutive years, the Rita Marley Foundation (Ja) has held highly successful public-speaking competitions among high-schoolers across Jamaica. The aim is to develop outstanding oratory skills and the ability to represent Jamaica regionally and internationally. Former winners of the competition have excelled academically and in the oratory arena, including pursuing studies in medicine and winning the Optimist International Caribbean District Oratorical Contest.
The fifth event is slated for February 15, 2019. According to Rosemary Duncan, manager at the Rita Marley Foundation (Ja), "It will be monumental, with substantial sponsorship support from reputable individuals and organisations, including the Leeds family in Las Vegas, the South African High Commission, the Jamaica Fire Equipment Limited, the National Council on Reparations (NCR) and the Centre for Reparations Research (CRR)."
Students have been assigned an interesting and stimulating topic for the first segment: 'Of all the forms that reparation should take, repatriation to Africa is the most important.' Orators are free to support or oppose. A sixminute time limit will be allotted to each speaker.
Immediately following the first round, judges will select three finalists who will be issued an impromptu topic for delivery. The first-place winner will be awarded $50,000 plus other prizes. The second- and thirdplace winners will also receive significant cash and prizes.
The key sponsors have shared why they have invested in the event. According to Mrs Donna Leeds, "I'm excitedly coming on board to support the Rita Marley Foundation (Ja) in its outstanding and ongoing efforts to nurture and support the youths in the competition."
COLLABORATION
Professor Verene Shepherd, director, CRR, and co-chair of NCR, expressed, "The Centre for Reparation Research is pleased to collaborate with the Rita Marley Foundation (Ja) in the Schools' Public- Speaking Competition in light of the topic chosen for the 2019 competition. Repatriation has long been regarded as a right for all African people forcefully relocated to the Americas, and is the third demand on the CARICOM Ten-Point Action Plan for Reparatory Justice."
Tyrone Gunnie, acting high commissioner, South African High Commission, stated, "It gives the South African High Commission great pleasure to support this important project by the Rita Marley Foundation. Not only does this project support youth to become more confident public speakers, it also challenges them to broaden their knowledge base."