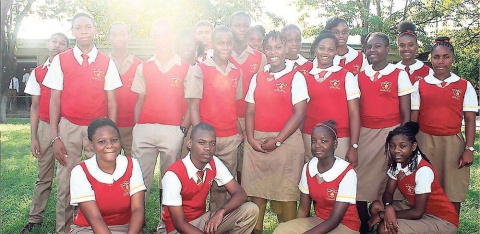 The students who were inducted into the Honours' Society, boasting averages of over 90.
Mona High School has been making a lot of strides lately and are now reaping the rewards from the hard work of its stakeholders. This is most evident with the balanced lifestyle that it promotes to all its students.
SPORTING EDUCATION
The school participates in a host of ISSA sports, such as netball, football, hockey, track and field, and table tennis. The sporting fraternity has done well with much emphasis on hockey, where they have won the last three
tournaments with Imani Linton, who was instrumental in assisting the Jamaican senior hockey team to qualify for the Central American and Caribbean hockey tournament. The same can also be said for the Manning Cup team,who gained an unprecedented 13 points and finished fourth in their zone.
SCHOOL LIFE
The school hosts as many as 16 clubs and societies, which include, but are not limited to debate, science, tourism, engineering, Girl Guide, Key, math and sports clubs. To further promote academics, they have also added
the Student of the Month Award as a motivational initiative that highlights an outstanding student at each grade level for that month. 
The Honours' Society plays a similar role and inducts students who have an average of over 90 per cent. They are also given a red vest to wear, that distinguishes them from the regular school population. Awarding their students is very important as the school host their annual prize-giving awards ceremony on the November 22, at the Alfred Sangster Auditorium, University of Technology at 8 a.m. All parents, guardians and well-wishers are invited to come and show their support. The Mona High School has also institutionalised mathematics and literacy clinics as a means of giving back to students due to the challenges faced by some.
This sentiment is also transferred to the teachers with the annual Teacher of the Year Award. This year, Miss Latoya Fyne, head of the Business Department, received the coveted status, which serves as a means of  encouragement for hard work.
ACADEMICS
As a result of all these initiatives, the students have done profoundly well academically, especially in the CSEC and CAPE exams, boasting 100 per cent passes in as many as 20 subjects.
Mona High now offers new subjects – electrical at the CAPE level, and economics and food & beverage at the CSEC level.
The strategies utilised by teachers include, but are not limited to hands-on, practical work, collaboration, guided discovery grouping, and the use of ICT. As for the literacyenhancement programme, it has been combined with sports in helping boys to reach their full potential in literacy so as to cope with other subject areas, and there has been significant improvement.
ALL BOYS INITIATIVE
Research has shown that boys learn differently from girls. With this in mind, the boys are streamed in separate classes from the girls. The marked improvements indicated are as a result of this decision.