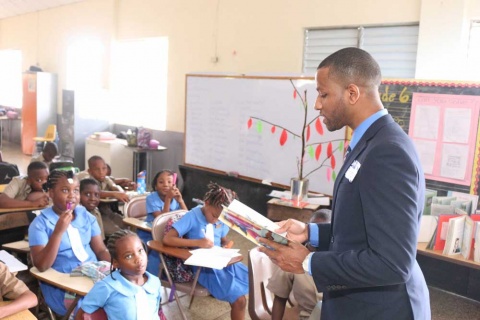 Kingston, Jamaica - May 09, 2018 – Investment Brokerage house, Mayberry Investments on Tuesday, embarked on another mission to encourage the nation's children to enjoy and improve their reading skills during the annual Read Across Jamaica Day. Read Across Jamaica is an international literacy program formed to foster a love of reading in children in Jamaica and the Diaspora. The reading activities coincided with Child Month celebrations and, since its inception in 2003, organizations have collected and distributed books to schools in an effort to engage young people in literacy activities.
Mayberry Investments CEO Gary Peart as well as a contingent from the company, visited the St Thomas More Prep School located in May Pen, Clarendon to give back to a school that has given him so much. St Thomas More Prep was surprised yesterday when it was given a cheque for $100,000 to go towards building a well-needed library that the school desperately needs.
"I spent the better part of my childhood here in May Pen and I was once one of these kids you see sitting here. St Thomas More Prep is where my education started and it gives me great joy to know that I'm able to give back. You can say I have some sentimental ties to this school so when we were deciding which school to come on Read Across Jamaica Day there was no doubt in my mind that this would be the perfect school" explained Gary Peart, CEO, Mayberry Investments.
"We at Mayberry love investing in our nation's youth and we saw where St Thomas More Prep really need our help not only to come and read a couple books but help with ensuring that when we leave here today they are able to continue ensuring these students have all the books they need to advance their literacy skills" added Peart.
Students, administrators and teachers at the school were thrilled and extremenly grateful for the time taken to spend at the school and the much needed donation.
Read Across Jamaica Day allows children in schools across Jamaica to share in the joys of reading, through exciting reading strategies that each organization uses, which allows student to interact with text that may be above their independent reading levels.
Emri Morgan, Principal, St Thomas More accept a symbolic cheque to contribute to the building of the school's library from Gary Peart, CEO, Mayberry Investment during the Read Across Jamaica Day