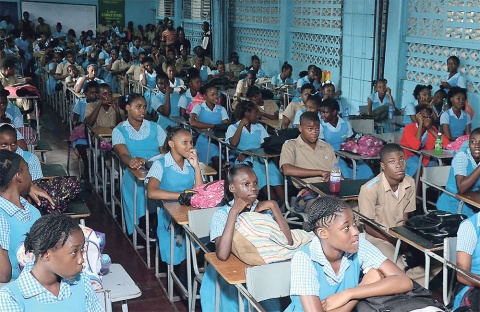 Lacovia High School students listen to Founder and Creative Director of Sankofa Arts & Facilitation, Fabian Thomas (not pictured), speak about the importance of employing refusal skills as one of the lessons learnt from 'The Movement', a live theatrical play discouraging underage drinking through 'edutainment.'
In the face of what is often intense peer pressure, several students at Lacovia High School in St Elizabeth say they are determined to wait until they are of the right age to consume alcohol. Their commitment followed a presentation from The Movement, an engaging live theatre production that discourages alcohol consumption among persons under 18.
"The play was vibrant, as it drew everyone's attention. The actors made me learn a lot, such as surrounding yourself with the right people so that you do not get drawn into bad peer pressure," said Tobi-Kay Lyn, a grade-eight student at Lacovia High. "I thought it was important how the play stressed the importance of personal responsibility when making decisions and that each decision comes with consequences." 
Lyn was among a group of more than 100 students in grades eight and nine who watched intently as the talented cast from local production house Sankofa Arts & Facilitation brought the controversial issue to life on stage.
"The aim is to make an impact, to leave an indelible mark with each audience by connecting with young people through relatable experiences. And based on the high level of engagement and interaction, we feel we're doing just that," said Fabian Thomas, founder and creative director of the production.
"With each presentation, we are surprised and impressed by the sophisticated questions the children ask us. I remember after one of our presentations, one of the boys told his friend that he is going to stop drinking because he values his liver," shared Thomas. "There was even an instance where a very animated older student in grade 10 took the microphone from us and began discouraging students from drinking." Driven and funded by the
Desnoes and Geddes (D&G) Foundation, The Movement has received the full endorsement of the Ministry of Education, the National Council on Drug Abuse and the National Parenting Support Commission. Since it began in 2016, The Movement has performed in more than 100 high schools, impacting over 6,000 students. "In order to better help children tackle peer pressure and make informed decisions at an early age, the presentations are
often done to grade eight- and nine students," explained Thomas.
Lacovia High School guidance counsellor Reverend Jacob Powell lauded the D&G Foundation for its promotion of responsible drinking. He said, "The Movement is a good initiative because we think it is necessary for our students to be empowered with the knowledge of the misuse of alcohol products, so they can avoid the pitfalls that open them up to addictions and inappropriate behaviours." Dedicated to transformational change through the performing arts, Sankofa Arts & Facilitation is looking forward to positively impacting the lives of more young people through The Movement. By popular demand, the company will explore opportunities to create support groups for students who have an alcohol problem, as well as a similar play, tailored for parents, to equip them with the tools needed to prevent underage drinking.