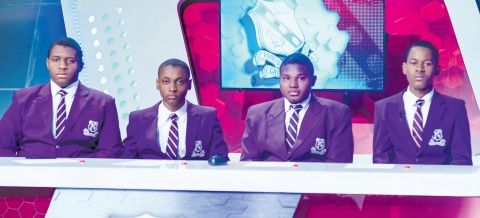 Kingston College quiz team.
THE NUMBER 2-seed Kingston College (KC) from Kingston went up against first-timers number 63-seed St James High School from St James and came out as the winner of match 17 of the 50th season of TVJ's Schools' Challenge Quiz. St James High School won the toss and decided to go first.
The Opening Challenge saw Kingston College taking the lead, while St James High School got their first question correct. They did not get anymore until during the last 30 seconds of the round, where they received two additional points, ending the round on three points compared to KC's six points.
The Speed Challenge was one-sided for the majority of the section, with KC dominating and racking up the points, creating a substantial gap between them and St James High School. St James High School received only two points in the first minute of the Speed Challenge and none for the remaining two minutes. The teams entered the Buzzer Challenge with KC on 28 points and St James High School on five points.
KC answered all the questions in the Buzzer Challenge, except four; two of which went to time without any attempts made, and two which St James High School answered incorrectly. The match ended with Kingston College on 58 points and St James High School with one point.
Jeffery Foreman, coach of Kingston College, commended his team on their great performance for the first round of the competition. "I think it was a solid performance; the team answered all the questions they were expected to answer, based on the work they have done so far," he said. He further explained that if the composure that they have shown for this first round remains, then KC will be able to hold on to their number one standard.
Nicola Wyndham, coach of St James High School, stated that she was proud of the team's performance, since it was their first time. "I think they (St James team) did a good job, as it is a learning curve for them," she said. She further stated that St James High School will be back and a better contestant in the next season of the competition.
Kingston College will meet Hampton School in round 2 of the competition.