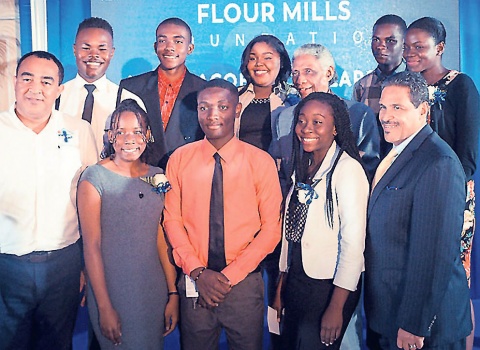 Minister of Health Dr Christopher Tufton (left, front), Derrick Nembhard (right), managing director, Jamaica Flour Mills, and Professor Neville Ying (third right, back), chairman, JFM Foundation Mills, celebrate with the recipients of the 2018 JF Mills Foundation and Hart Jacobs Scholarships during the scholarships' 30th anniversary and awards luncheon.
Eight students from communities across the island will be completing their tertiary education with no major cost to their families, thanks to $3.6 million in scholarships they have received from the Jamaica Flour Mills (JFM) Foundation.
The foundation, which this year celebrates its 30th anniversary, has, over the years, funded the education of more than 200 students with financial contributions amounting to more than $45 million.
Speaking at the 30th anniversary awards luncheon, held on Thursday, October 4, at the Terra Nova All-Suite Hotel in St Andrew, Derrick Nembhard, managing director of Jamaica Flour Mills, said that the JFM Foundation has been positively impacting the nation through its scholarship recipients, who have gone on to do great things in both the public and private sectors.
He noted, too, that as the foundation celebrates its 30th anniversary, and the Jamaica Flour Mills celebrates 50 years, they have used the opportunity to increase their contribution to their community.
"This year, we launched the JFM Foundation Community Scholarship, which was designed to provide financial assistance for tertiary education to students residing within the communities of eastern Kingston, which is the area where our plant is located," Nembhard said.
Guest speaker at the awards luncheon and past recipient of the JFM Foundation Scholarship in 1989, Minister of Health Dr Christopher Tufton, congratulated this year's scholarship recipients and urged them to keep up the good work.
"I commend and recognise all the recipients of the JFM Foundation Scholarship, both current and past recipients, and I also want to salute and congratulate the Jamaica Flour Mills Foundation for their contribution to the personal development of recipients, their contribution to community and national development, and even international development," Minister Tufton said.
This year's scholarship recipients – Amanda Sturridge, Javian Hudson, Tiffany Grant, Akeem Campbell, Javier Bryan, Shaniequa Brown, Rashida Willie, and Andrew Hercules – have each received full scholarships to the University of the West Indies and the University of Technology to pursue degrees ranging from biochemistry, chemical engineering, accounting, pharmacy, computer science and electronics, and actuarial science.