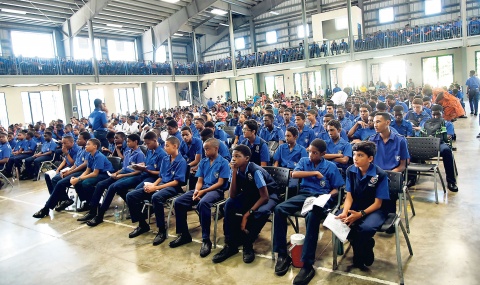 Lower school awardees.
Weeks ago, Jamaica College celebrated its annual Achievement Day under the theme 'Striving for Excellence'. Students and parents filled the Karl Hendrickson Auditorium in anticipation of what their schoolmates and child/children had accomplished during the last academic year.
"This year, we wanted to recognise the high-achieving college men in all areas of school life, not just academics, but other socially impactful areas. At the end of the day, we want the ceremony to inspire all the boys to do their best," said principal Wayne Robinson.
The event commenced with the entry of the national flag by members of the Jamaica College Cadet Unit, followed by a short but lively devotion. Robinson then gave his report on what had happened during the last school year and also what he plans to accomplish for this academic year.
"Two of the main accomplishments I was really proud of is our steady growth in academics, which plays a vital role in the school's progress; and our robotics programme, which continues to excel each
year," said Robinson.
Soon after, the guest speaker, Jamaica College old boy and coordinator of Youthlink Kareem LaTouche, expounded on his time at the school and how other students should use their school years to develop their talents.
"Just as how Samuel anointed David with oil, many of your teachers and guardians are anointing you with education, discipline and the skills needed to be a better man. Don't reject their input in your life; instead, embrace it," emphasised LaTouche.
He continued to uplift the spirits of the boys by encouraging them to keep trying amid disappointment. "Failure is a part of life. Even Usain Bolt failed in his first Olympics in Athens for the 200m heats. It's how we choose to interpret failure that is most important. Let us treat it as a lesson to help us improve on the mistakes we made yesterday."
After his speech, the awards segment part of the ceremony began, where students were rewarded for their performance in academics, sports and extracurricular activities. The major highlight of the ceremony was the Principal's Award. This came into existence as a promise from Robinson, who vouched that if a student maintained an average of 90% or above, the student will be given a cash prize.
One of the key coordinators of the ceremony, vice-principal Annie Blake-Williams, eagerly expressed her delight at the outcome of the event. "The support for the ceremony was very good, especially from the parents who took time out to see their son/ward receive their prizes. From such a momentous ceremony, we are now fine-tuning our boys so they can continue their academic excellence, both in the internal and external examinations," said Blake- Williams.