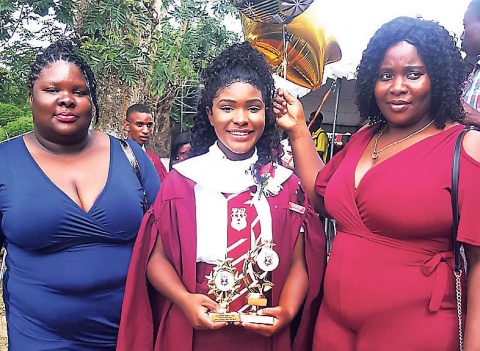 Looking at the super confident, smiling, friendly Kellits High School head girl, Janice Gordon, it would be hard to imagine that she was once a rebel and troublemaker.
With a grin, she tells Youthlink that her life underwent a total transformation at the school, through caring counsellors and teachers who invested their time in making her a better person.
Now in lower-sixth form, Janice has her sights set on being either a journalist or a lawyer, or both, if possible. She has earned six ones, three twos and a three in her Caribbean Secondary Education Certificate exams, and had to push through her bouts of "tiredness" to focus on studying.
With her life turned around, Janice now allows herself the luxury of looking back on her rebellious days. Coming from a single-parent household where her mother, Vinetta Thomas, does everything she can, including small-scale farming, to make ends meet, she says she is accustomed to not having a father or the influence of one.
She thinks maybe it helped to fuel her 'destructive phase' in grade eight.
"I gave trouble, didn't want to conform to rules, was just disruptive and a nuisance to the school," she recalls. Her behaviour put her on the school's discipline radar and brought her to the attention of teachers who stepped in to assist her. She said counselling from her aunt on a daily basis also helped in turning her life around.
By the time she reached grade 10, Janice says she had a look at her life and then decided to buckle down.
"In all my misbehaving, I was always maintaining good grades," she explains. She soon realised, however, that it was not enough, and that proved to be the catalyst in completely turning her life around.
Today Janice describes herself as a "well-rounded student" and her involvement in 4-H Club, Red Cross, as well as other social organisations, ensures she has herhands full. Then again, she would have it no other way.
2020 Air Jordan 1 Retro High OG Sail Obsidian University Blue 555088-140 – Buy Best Price Adidas&Nike Sport Sneakers