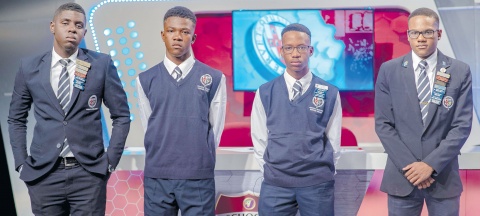 Jamaica College's Schools' Challenge Quiz team.
MATCH 13 of the 50th season of Television Jamaica's Schools' Challenge Quiz featured number 15-seed St Mary's College from St Catherine going up against number 29-seed Jamaica College (JC) from St Andrew. St Mary's College won the toss and decided to go first.
The Opening Challenge of the match ended with Jamaica College leading by one point at four points to St Mary's College's three points. Queries made during the break, pushed JC one point higher to five for a question that was thought to be incorrect, but later accepted by the judges. St Mary's College remained on three points.
JC once again pulled out on top in the second round of the match racking up the points and ending the Speed Challenge on 20 points to St Mary's College's 13 points. Again, queries were done by the JC coaches and JC gained a point for an answer which was given before the bell, while St Mary's College lost two points. At this point, St Mary's College seemed less confident as the round ended with JC on 21 and St Mary's College on 11 points. However, it was still anybody's game.
During the final round of the match, JC was quicker to the buzzer while St Mary's College tried to keep up. The first two attempts made by St Mary's College were incorrect and the supporters in the stands voiced their opinions with groans of disappointment. St Mary's College came back, though, but it wasn't enough to win the match. The Buzzer Challenge ended with Jamaica College on 31 points to St Mary's College's 15 points.
Ainsley Pagon, coach of Jamaica College, stated, "It was JC's game to win, though there are a few things that we need to go back to the proverbial drawing board to fix."
Danique Hamilton, coach of St Mary's College, said that plenty of practice is in the future for the school's quiz team. "During the match, our opponents got us on some technicalities, like pronunciation, and JC was better prepared, so we are going to work harder and practise," she stated.
JC moves on to the second round and will play Dinthill Technical High School.