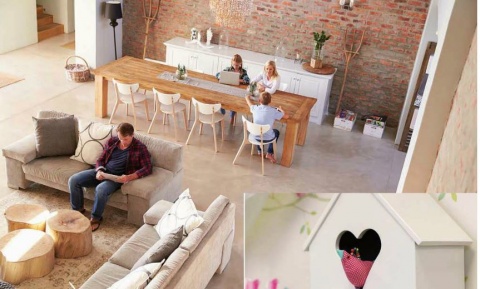 by Angela deFreitas
As long as there are buildings which people use as homes, offices and in many other ways, there will always be work for interior decorators. But who is this person? An interior decorator is a highly creative person who takes on the task of providing furniture, lighting, decorative items, soft furnishings, fabrics, rugs, accessories and colour schemes to pull together a room, an entire house or building. The decorator implements the finishing touches which will make the place comfortable, elcoming, inviting and pleasing to the eye. It is important to note that an interior decorator has different skills and qualifications to an interior designer. Designers make interior spaces functional, safe and convenient. They work closely with architects and can read blueprints and must be aware of building codes and inspection regulations, as well as universal accessibility standards. An interior designer can easily also be a decorator but not vice versa.
WHAT THE WORK INVOLVES
At some time during the work day an interior decorator might:
- Meet with clients to discuss their ideas, budgets and timelines
- Outline a budget for the work to be done
- Make colour selections
- Choose furnishings, lighting, materials etc.
- Shop for required items
- Implement and install furnishings
Interior decorators usually work on their own and you will not find many large companies with opportunities for employment. You will therefore need to develop good entrepreneurial skills. Many projects have deadlines and you may therefore have to work according to other people's schedules which may mean weekends and/or public holidays. Your creativity and ideas will form the basis of what will be done but you will also have to call upon the skills of others – such as painters, installers for window treatments etc.
– to complete jobs.
WHO IS THIS CAREER FOR?
Do you find yourself with ideas about how a room could be transformed the minute you step inside it? Are you creative with a flair for design, colour matching, space, arrangements, fabrics etc.? Are you also a people-pleaser who can communicate your ideas without seeming to be pushing your personal opinions, likes and dislikes? Along with the above qualities you will also need good time management.
WHAT CAN I EARN?
You can set your own target income. A great deal of your financial success will depend on your own business skills, creativity and how many long hours you are willing to put in. A breakthrough may be hard to achieve so be prepared for a struggle even to earn a medium-level salary. Advertising and promoting your work will be important but word-of-mouth is a great recommendation for good work done.
HOW DO I QUALIFY?
Almost anyone with the flair can become an interior decorator. It can be as simple as printing business cards and promoting yourself to clients. You will have to build yourself a good portfolio reflecting your work but a strong educational background is also important. Get a sound education. At the secondary level business subjects, art and design and textiles would be great options. Read a lot and keep up-to- date on what trends are happening in the industry, When you find a course of study – and this may be online - be prepared to learn about colour schemes and the distinctions between tints, shades and tone how to sew drapes, various drapery styles and hardware. Space planning, light plan and design principles will also be included.
WHO OFFERS TRAINING IN JAMAICA?
HEART/NTA – Garmex Academy
Kaju Institute of Fashion Design
Annie Gee's
Angela deFreitas is General Manager of CHOICES
Career & Education Advice –
e-mail - info@choicesonlinejm.com
Send us your comments and suggestions on what you want to know more about.
Read again for more on exciting careers for now and the future.