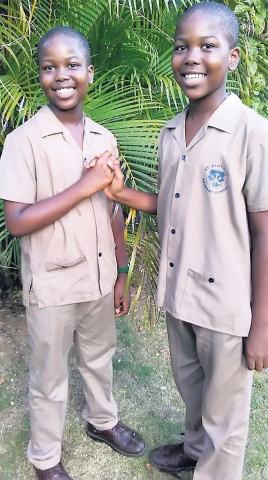 Kaeden Brown (right) with his brother, Kyle.
Kaeden Brown is the 2018 recipient of top boy award at the third staging of the Supreme Ventures Limited (SVL) Junior Creators Robotics Camp, which included a $50,000 scholarship for school supplies, in addition to trophies to commemorate his efforts.
The 10-year-old was selected based on the work done each week.
One hundred students from primary schools in Kingston were selected to take part in the SVL camp, held at Campion College. Initially, Brown was not invited to attend the camp; only his twin brother, Kyle, was given a permission slip. However, Claudia Walker, the twins' mother, explains, "When I went to drop off Kyle at the camp, Kaeden asked if he could go as well, so I asked the organisers if he could join and they said yes."
Walker states that Brown's interest in robotics has been piqued from his experience at the camp. "I don't think he will lose interest any time soon because he is already asking when the camp will happen again. He is even asking for a drone," Walker explains, sounding proud of her son. The grade-six student from St Aloysius Primary School states that he definitely likes robots now, and goes on to tell one thing he has learnt from the camp.
"Robots consists of three Bs – brain, body and behaviour – and what you put in the brain of the robot is what you get out." On the other hand, he explains that while he likes robots, he is not sure if he wants to continue in robotics, as he hopes to become a business manger and own a business when he gets older. "I am just looking forward to doing PEP right now," he says.
Being top boy comes as no surprise to Brown, as he was given the award in grade five for his academic performance.
The SVL Junior Creators Camp targets students between the ages of eight and 11 and is aimed at teaching primary-school students the ways to use programming language to code robots and develop an interest in the disciplines of science, technology, engineering and maths. One of the goals of the camp is to have a lasting impact on those who attend; therefore, they have partnered with RISE Life Management. The experience lasts for two weeks and comes at no cost to parents as the camp is free to all participants.