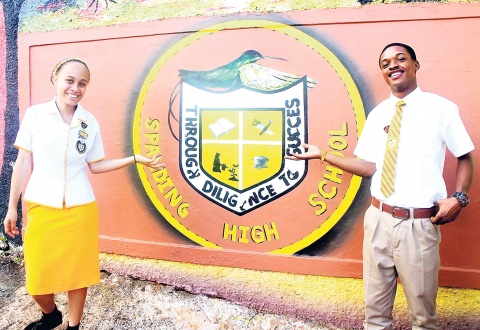 Sitting on top a hill in Spaulding, Clarendon, is a high school that many have deemed an underdog for years. However, Spalding High School has proven itself to be a force to be reckoned with, particularly in the areas of sport, innovation, vocational training and even academics.
WHERE IT ALL BEGAN
On January 8, 1973, Spalding Junior Secondary School opened its doors to students under the leadership of Caswell Burton, who was seconded from Bellefield Secondary School. At the time, the school catered for students 12-15 years in grades seven to nine. In 1975, the school became a new secondary school with the introduction of the 10th- and 11th-grade programmes.
In September 1995, the school was renamed Spalding Comprehensive High, but in September 2000 it was again renamed Spalding High School under Alphansus Davis' leadership. Five years later, the academic institution was removed from the shift system.
Principal George Henry, a past student, said the institution has always been creating history, from making it to the finals in the DaCosta Cup football in 2008 to launching a uniformed Police Youth Club on December 7, 2015.
"We have created history ... a group of five male students made a significant discovery in the use of fish scales to make plastic. They competed against students in their age group from various high schools as well as more experienced students from colleges and universities. There were many doubtful Thomases who thought that Spalding High
would not never win the Jamaica Public Service-Scientific Research Council science competition (in 2011) and the sixth-form boys came out on top, winning all categories," the proud principal explains.
Not only does the institution boast four computer labs, with three of them fully equipped, but there is also an extraordinary track team with several record-holding members.
"When the team went to Boys and Girls' Champs in 2017, both the boys' team in the 1600-metre relay and the girls' team won the events; the first institution in the history of the ISSA track and field competition to have done so. The girls made a record-breaking run of 3 minutes and 57.58 seconds and that record still stands," principal Henry beams.
When asked what is different about the institution, Henry says the teachers go beyond the call of duty.
"I'm not saying teachers at other institutions aren't caring, but I can speak for Spalding. The teachers here are extremely caring. Some of our teachers pay for students' exams: CSEC, CAPE, City & Guilds, because we have a lot of needy students and we are of the view, like the Ministry of Education, that no child should be left behind. As a result of that, we pull out all the stops, even if it means selling ice cream and pastries or putting on a concert to raise funds for our students," he declares.
He claims that Spalding High School will be the first to put on a training seminar for parents who need guidance in parental skills.
"We will be having a graduation exercise for the parents who complete the seminar and they will be presented with their certificates."
The school is proud to have 20 past students of the institution on staff today.