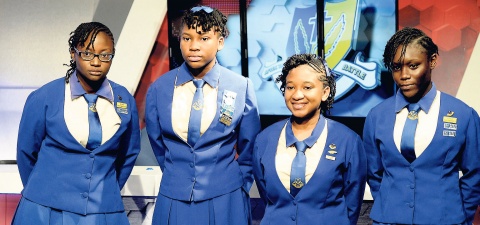 Match two winners Holy Childhood High School.
Match two of the 2019 season of TVJ's Schools' Challenge Quiz went to Holy Childhood High School, who won with 25 points, while Excelsior went home after gaining only nine points.
The match started with the 'Opening Challenge', where questions to each team were alternated. Excelsior won the toss but allowed Holy Childhood to go first. Holy Childhood took the lead and seemed very confident, while Excelsior did not seem ready for the match. The round ended on 9-5, with Holy Childhood leading.
For the 'Speed Challenge', however, Excelsior High almost closed the gap, but Holy Childhood High pulled ahead and the round ended, again with a four-point lead, at 21-17. It was still anybody's game going into the 'Buzzer Challenge'.
One of the Excelsior coaches had a short talk with the team before the third round of the match started, but it did not seem to work, as some early buzzes and too many incorrect answers were detrimental to the team. One coach was visibly disappointed with the results.
Johnross Smith, one of the coaches of the Holy Childhood team, stated that he expected better. "We are glad for the win, but I think they could have done better," he said. His plan is to focus on the speed and buzzer sections of the match and come better for round two.
Meanwhile, Odell Marsh, one of the coaches of the Excelsior High School team, stated that they will be going back to the drawing board to correct the mistakes. He also mentioned that this is a new team and he will be working with them for next year.
Holy Childhood High School will play the winner of match two in round two of the 50th season of the Schools' Challenge Quiz.