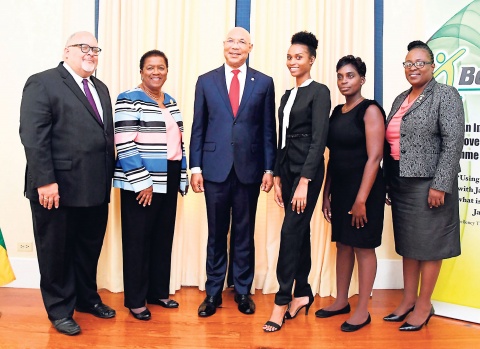 Governor General Sir Patrick Allen (third left) shares smiles with scholarship recipient, Mickaylia Johnson (fourth left); Custos of St Elizabeth Beryl Rochester (second left); Johnson's mother, Shernette Brown (second right); IBI ambassador Alethia Peart (right); and chairman of the adjudicating panel, Peter Goldson.
The govenor General's 2018 IBI-Monroe Scholarship recipient, Hampton student Mickaylia Johnson, will commence reading for a bachelor of science degree in computer information systems, which she will complete in 2022.
This four-year scholarship is facilitated by a partnership between the governor general's I Believe Initiative (IBI) and New York-based Monroe College, which began in 2014 and has so far benefited three students.
Commenting on her selection, Johnson said, "It's a dream come true and I'm really happy and grateful for the opportunity to be able to take the next step towards achieving my goals."
She added that her decision to venture into computer studies resulted from an enduring interest in technology and that she is very excited about the possibilities that lie ahead.
Monroe College is a highly ranked tertiary institution which currently offers higher-level education in areas such as criminal justice, nursing, information technology, nursing, education, hospitality management, culinary arts, among others.
IBI is an arm of the governor general's Programme for Excellence, which seeks to recognise and promote excellence as well as empower Jamaicans to attain their maximum potential.
The IBI, which was launched in 2011, is driven by its mantra: 'Using what is right with Jamaica to fix what is wrong'.
Students who are eligible to apply for a scholarship through the programme include highschool graduates who have attained at least seven high-level Caribbean Secondary Education Certificate passes as well as three high-level Caribbean Advanced Proficiency Examinations passes.
The next round of selections will take place in July 2019 for the 2019-20 academic year.