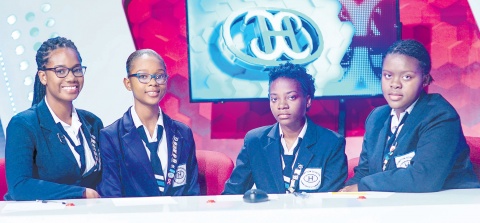 Hampton High's School's Challenge Quiz team.
The number 31-seed Hampton School from St Elizabeth faced off with number 34-seed Morant Bay High School from St Thomas and came out as the winner of match 18 of the 50th season of TVJ's Schools' Challenge Quiz. Morant Bay High School won the toss and allowed Hampton School to go first.
The Opening Challenge saw both teams working hard to move on to the second round. However, Morant Bay High School lead the match with nine points compared to Hampton School's seven points.
The scoring was much similar for the Speed Challenge, except that at the end of the second round of the match, Morant Bay High School lead by one point with 22. After the first minute of the Speed Challenge, both teams tied at 14 points, and Hampton stepped away from Morant Bay slightly after the second minute, leading by three points at 21, with Morant Bay on 18 points. For the third minute, Hampton School didn't score, while Morant Bay High School gained four points, once again leading the match.
Going into the Buzzer Challenge, Morant Bay High School seemed relaxed and confident as they were laughing and joking around. Hampton was rather quiet. It was still anybody's game, though. For each question Hampton School answered, they were careful. The ladies waited until they question was complete and they were certain that the answer they had was correct before buzzing. On the other hand, Morant Bay High School would press the buzzer first, often pressing before the question was completed, and then seemed to be guessing the answer. While they got some question correct, it was not enough to win the match.
Hampton School came out as the victors with 29 points, and Morant Bay High School ended on 20 points. As a result, Hampton School will face Kingston College in the second round of the contest.
Joseph Hall, coach of Hampton School, stated that while there are a few details to pay attention to, he is pleased with the performance of the quiz team. "We plan to go back to the drawing board and correct a few details, as I am concerned about the minute section. But I am comfortable with the score," he said.