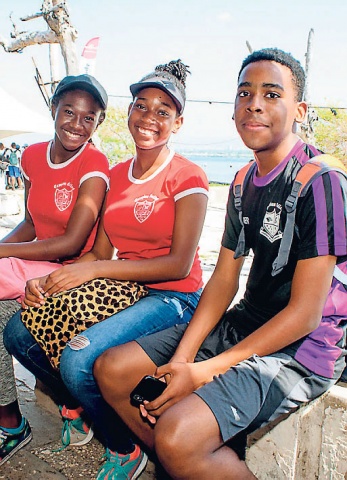 Campion College fourth-formers (from left) Maijani Hall, Gavia Christie and Matthew Jenkinson are happy to help with the removal of garbage from the environment.
The battle against garbage polluting Jamaica's beaches saw a brave effort by GraceKennedy Limited (GKL), one of several corporate entities which participated in the 2018 International Coastal Cleanup (ICC) Day.
This year, the GraceKennedy team collected a total of 3,342.2lbs of garbage and 1,171lb of recyclable plastic (over 4,500lb of waste) from Buccaneer Beach and Gunboat Beach along the Kingston Harbour.
Leading the Herculean task on behalf of GK was the GraceKennedy Foundation, which had the support of 257 volunteers comprising board and staff members, their families, students and other youth organisations.
In a little over two hours, the volunteers removed a wide assortment of garbage, including styrofoam food containers, plastic bags, bottles, household furniture and tyres.
Commenting on the group's effort, Caroline Mahfood, executive director of GraceKennedy Foundation said, "We do it because we care about the environment. However, it is critical that we solve the problem at source, as too much garbage is going into the harbour. Each of us has to do our part to protect the environment."
She explained that the foundation's spearheading the group's participation in ICC Day was part of a larger thrust in keeping with its mandate to support GraceKennedy as a corporate citizen by creating environmentally sustainable programmes.
"We currently run a very successful plastic bottle-collection programme at our subsidiaries, at 10 schools in Kingston, and at select Hi-Lo supermarkets. This initiative is another way of us doing our part to bring attention to environmental issues," said Mrs Mahfood.
GraceKennedy has been the largest corporate collector for a single site at ICC Day in Jamaica for the last two years.