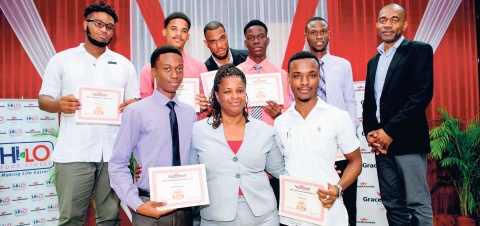 Scholarship recipients of the Bruce Rickards Scholarship, which is given to past students of Kingston College, are joined by Madame Hall, French teacher at Kingston College (front row, cenre) and Dave Dacosta, VP of digital marketing and communications, First Global Bank (back row, right).
GraceKennedy Foundation has added a service component to its scholarship programme that is aimed at contributing to Jamaica's development. This was announced by Senator Don Wehby, Group CEO, GraceKennedy Limited (GKL), who addressed the foundation's Scholars Awards Ceremony, held at The University of the West Indies (UWI), Mona campus, on October 18.
Speaking to GraceKennedy's focus on nation building through education, Wehby said, "If every child is given the right opportunity, wherever you are from, once you apply yourself, you will do well. That is why I believe very strongly that every Jamaican is entitled to a good education."
He announced that as part of GraceKennedy's efforts to support students in a multifaceted way at the tertiary level, the GraceKennedy Foundation would partner with Grace Foods, other companies within corporate Jamaica and the Guild of Undergraduate Students to open a food bank at the UWI, Mona campus. This would address one of the critical issues affecting some tertiary-level students, particularly those from the lower socio-economic groupings. These university students are often hard-pressed to eat healthy, nutritious meals, as any financial assistance they may receive is usually geared towards covering tuition, books and other education-related expenses.
Once it becomes operational, the food bank will serve as a collection point for food donated by participating companies. The food bank will then redistribute this donation to needy students. The GraceKennedy scholars, along with other UWI students, will voluntarily man the food bank.
Wehby pointed out that the scholars would also participate in the newly established Student Ambassador Programme, known as GK Campus Connect. Through the programme, the scholarship recipients would serve as campus ambassadors for GraceKennedy brands, including Grace Foods, First Global Bank (FGB), GK Insurance, GK Money Services and Hi-Lo Food Stores.
The campus ambassadors will receive training in project planning and implementation. They will also gain hands-on experience in business processes, marketing and sales. This exposure will help to develop the students' soft skills, including leadership, time management, communication and problem solving, while building their self-confidence and interpersonal relationships.
Executive Director of GraceKennedy Foundation Caroline Mahfood explained that service was ingrained in the culture of the GraceKennedy Group. She added that the foundation wanted the scholarship programme to have more than a monetary impact on the recipients, hence, the introduction of the two initiatives.
"We want to ensure that our scholars make a lasting impact in their various fields of study, and so we saw it fit to ensure that they're involved in giving back to their communities. In doing so, we give them the requisite help to become the well-rounded students who will shape the country's future," said Mahfood.
The present cohort of 89 scholars would volunteer a minimum of 30 hours this academic year assisting with these two initiatives.