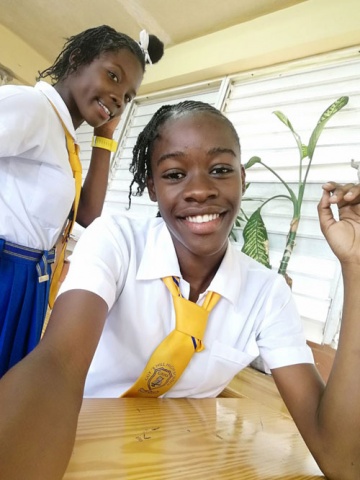 The Boardofwisdom.com tells us that "friendship is not about who you've known the longest, it's about who came and never left your side." Well Kishae James and Tavene Henry have been side by side for approximately 13 years now. The two  best friends find out if the length of their friendship equates to the strength of their friendship in this week's Face Off Challenge. Maximum score = 18 points!
What is your best friend's most treasured item? 
Kishae: The item that Tavene treasures the most is her phone. Mine would also be my phone.
Tavene: Her treasured item is her phone, mine would be my phone too because we are very addicted.
1/1
Is your best friend a cat or a dog person?
Kishae: Tavene is more likely a cat person. I am not fond of cats or dogs.
Tavene: Kishae is neither of them. I am like a dog person.
0/1
What's at the top  your best friend's bucket list? 
Kishae: Tavene would get married. I would love to travel to Paris.
Tavene: She would like to live in Paris and I would live to get married.
1/1
What's your best friend's mother's middle name?
Kishae: Her mother's middle name is Carol. My mother's middle name is Elaine.
Tavene: Her moms middle name is Elaine,  and my mom middle name is Carol.
1/1
What sport would your best friend play if she wanted to play one? 
Kishae: She would play volleyball and I would play netball.
Tavene: Her favorite sport is netball and my favorite sport is volleyball. 
1/1
What's her go-to dance move? 
Kishae: Tavene's go to dance move would be a whine and mine would be a simple rock.
Tavene: Her go-to dance move is to do a church rock and mine is to whine.
1/1
Describe your best friend's sense of style in a sentence?
Kishae: Her sense of style would be dressing up and mine would be communicating with others.
Tavene: Her sense style is to surf the net and communicate with others,  and I like to dress up and look cute. 
1/1
How would your best friend describe herself in two words?
Kishae: Funny and caring are the two words that I would use to describe Tavene. Two words that describe me are funny and mad.
Tavene: She is funny at times and mad I'm also funny and I'm a crazy person. 
0.5/1 
What is her least favourite food? 
Kishae: Tavene's least favourite food would be kidney and liver. My least favourite food would be kidney.
Tavene: Her least favorite food is liver, my least favorite is food is also liver and kidney.
1/1
Total score: 16.5/18
Do you have a friend? A best friend? Well do what a best friend does and drag your bestie into this fun activity!
To be featured in Face Off contact us at: kfitzhenley@gmail.com