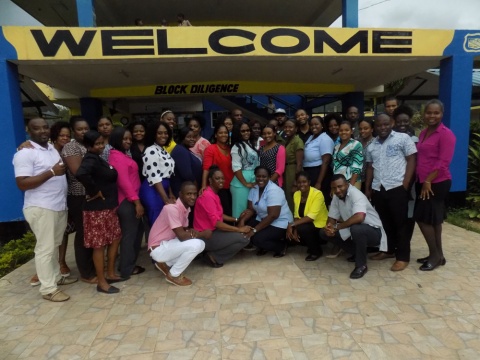 Taking its name from the St Catherine community in which it is located, the Ewarton High School is in the Youthlink spotlight this week, as we present all that we've found in a very recent visit.
Co-curricular involvement
If there is ever a school that has so many things going on that the photographer for this review was happily kept busy the entire visit, it's this one! Ewarton High prides itself on the social and extra-curricular involvement of its students with a host of clubs such as 4H, Science Club, Dance Society, Girl Guides and others.
Past student and current principal Jacqueline Simpson-Huntley, her fifth year in office, told Youthlink, "The students that we get at Ewarton High in terms of the GSAT placement are those that are average and more so, below average so we have a lot of challenges." She said, "We try to unearth potentials in terms of the extra-curricular activities. "
Notable Achievements
And with unearthing those potentials, the school has unearthed several notable achievements which carries out their motto, 'Strive amidst adversities'.
"The adversities are many," admitted Simpson-Huntley. "But, despite all of those we still try as a school. We have entered a number of competitions where we won two major awards from WISYNCO. We entered a Go Green biodiesel project with them where we created a biodiesel plant and we used cooking oil to make gasoline to operate the bus."
She said the students also entered and won a competition where they pitched to WISYNCO a need for a breakfast programme that would greatly assist needy children. Ewarton High is also a strong contender in the JCDC festival competitions, having entered eleven pieces this year that all medalled.
For the future
"Our vision is to become a centre of excellence and a school of choice," reiterated the proud Principal. If there is anything she could change about Ewarton High it would be, "The image and perception of the school."
She explained, "I want persons to look beyond the building, I want to get the community out of the frame of mind of the Ewarton Secondary that they would have known. I want them to see the strides that we have been making and judge us against those as opposed to a name."
Until then, Simpson-Huntley's other mission is to get the school on a straight day, having already moved from the shift system to an extended day. "Grades 7 to 9 are here from 7:50 until 2:10. The grades 10 and 11 are here from 8:30 until 3:10. It's one hour apart but it is a grave challenge because I have an entire grade every year that is roaming, meaning that they do not have a form room." 
With the extended day, several concerns for the students' safety, academic wellbeing and ability to participate in after school activities are eased but there is still a dire need for a straight day. "In order for that need to be realised we must get an entire block," the principal said. "We need at least six classrooms and two additional bathrooms for the students."