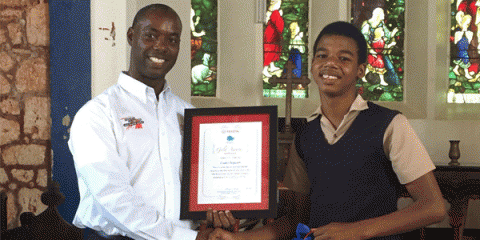 January 20, 2016 – "The Toyota Air Planter" is a car of the future conceptualized and designed by Caden Ferguson of Munro College. His was the winning entry in the 12 – 15 years old Category of the 2017 Toyota Dream Car Art Contest.
Caden proposed that this vehicle is a solution to the negative impacts of global warming. "The artwork represents a Toyota plane flying over the world, planting trees as it passes over countries bringing back life to the world which can be seen by the animals and the sky," said Caden in his description of his winning art piece. "It uses the idea that the world needs more trees to stop deforestation and global warming."
Toyota Jamaica now announces the 2018 Toyota Dream Car Art Contest which is held to encourage and inspire creativity in youth around the world. Jamaican students are invited to use their best creative expression to enter the competition this year for their chance to win great prizes for themselves and their school, and possibly a trip to Japan in the Global competition. Entries are invited from students up to 15 years old who are attending school. They should be coloured illustrations depicts their vision of transportation in the future that will solve a challenge that the world faces. The theme of the art contest is "Draw Your Dream, Drive Your Future." Toyota Jamaica is also recognizing the efforts of the schools that encourage students to enter
the art contest. "We have added a new element and the schools will also win prizes this year," Fletcher advised. "Prizes will be awarded to the schools of the top students in each category, and there is also a prize for the school that submits the most entries."
The top 3 artworks in each of 3 age group categories (12 – 15 years old, 8 – 11 years old and under 8 years old) will be forwarded to Japan for entry in the global competition. When the winners are announced, if successful our Jamaican entrant(s) will be among 30 World Winners who along with a parent or guardian will receive an all-expense paid trip to Japan for the awards ceremony.
Deadline for entries is Friday, February 16, 2018. Entries are to be sent to any Toyota Jamaica
location in Kingston, 427 Spanish Town Road or 93 Old Hope Road and Lot 1200 Ironshore
Industrial Estate, Montego Bay.  Visit www.toyotajamaica.com or Toyota Jamaica on Facebook
for more details, entry forms and competition rules.