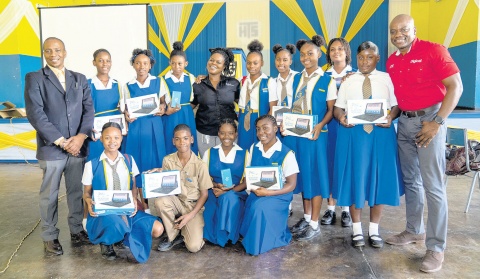 Back row (from left): Tarrant High School principal Paul Hall, Sheckayle Daley, Towana Murray, Heather Campbell, Digicel Foundation Public Relations Manager Candiese Leveridge, Shanaya Simpson, Alicia Brown, Ashley-Lee Williams, Tianna Stewart, Djhranay Thomas, Digicel Jamaica Public Relations and Communications Manager Elon Parkinson. Front row (from left): Ashley Mitchell, Levi Scott, Amber Robinson and Jazell Grayson are all smiles at the end of the Safer Internet Day activities on February 5.
Digicel Visited Tarrant High School in Kingston, engaging in discussions with more than 100 students to shine a light on creating a safer online experience for young users of the Internet.
The Digicel team sought to exchange ideas about how young Internet users can protect themselves online, while sharing valuable tips as well as the best ways to create a positive digital footprint.
The students learned some hard facts about the dangers they might encounter on the Internet – conveyed in a meaningful and fun-filled way.
"The Digicel team came at the right time, as we have been having these conversations more and more with the students here," said principal Paul Hall.
"As we embrace technology more and more in the teaching and learning process, we find that these discussions are empowering for our teachers and students, who learn from each other," he added.
Digicel Foundation Public Relations Manager Candiese Leveridge said the team continues to look for different ways to engage with students of all ages.
"The Digicel Foundation is committed to the enrichment of the21st-century student who learns with the aid of different types of technology. We support the integration of technology in learning; however, our young users should know how to responsibly navigate the Internet," she added.
Safer Internet Day is observed on the first Tuesday of February every year.
"As Jamaica's Bigger 'Data Network' and the English-speaking Caribbean's largest LTE network, we have a responsibility to play our part in ensuring that young Internet users create and set better examples of safe online practices. This is why joining the global commemoration of Safer Internet Day is so very important to all of us at Digicel," commented Elon Parkinson, Digicel's public relations and communications manager.