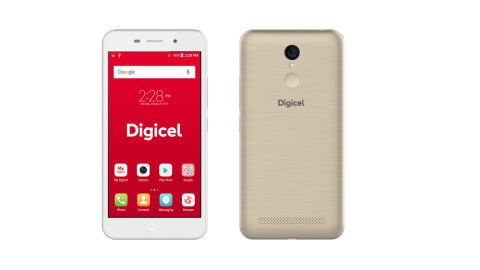 Digicel has been very active of lately by engaging its customers with competitive data deals. The company has also been sweetening their offers by launching their budget friendly DL 2 smart phones, which premiered in April 2013 with the first version, DL 600. 
"Since the DL 600, this line of affordable Android smartphones continues to be a top pick for Digicel customers looking for reliable, budget-friendly devices. It is for this reason we introduced the Digicel line of smartphones to assist more Jamaicans with becoming connected to the world of mobile data," revealed Elon Parkinson, Regional Communications Manager, Digicel Group. 
In keeping with the first-world trend of data-loving mobile users, Digicel has been trying multiple ways of keeping its customers connected with the internet. "We want to improve on our internet penetration and this new generation of DL smartphones, we will continue the trend. It is an important aspect of our overall 'Destination Data' drive – making Digicel the "go-to place" for all things data," revealed Parkinson. 
Both phones are priced moderately ranging from $14 000 to $21 000, which is very reasonable for smartphones with some premium-like features. "The new DL range is ideally for the price-sensitive customer or new smartphone user who wants the same advanced features typically found in high-end devices. Anyone interested in using a DL smartphone is typically in the market for a device with sturdy build quality, fast performance, vivid screen resolution and great camera quality at an affordable price," stated Parkinson. 
The smaller model, DL 2, comes with: android 6.0, 8 mp rear camera, a 5" touchscreen and a 1800 mAH battery, which should get a user through a day with use of data  activities like Whatsapp and Facebook. "These phones are also perfect for customers who want to connect at blazing fast speeds on our expanding LTE network," said Parkinson
The bigger version is the DL 2 XL, which comes with Android 7.0, an operating system that functions for optimal battery usage. The 5.6" phone also has a 13 mp rear camera and a HD screen, which is a great option for persons who like to watch movies on their phones. 
"Right now, we have an amazing deal on the DL 2 for $9,750 – down from $12,950. Offer ends February 28, so we're encouraging everyone to take advantage of this great discount. At the same time, we're inviting everyone to meet us on the road and try out the new DL 2 series as our Destination Data tour makes a stop in their area."
Of course, the next thing persons want to know is what to do if their phone gets damaged or starts to malfunction. "All DL smartphones are sold with a one-year manufacturer's warranty which covers defects in the device's hardware or software not caused by the user. Our support goes even further with our Data Doctors providing helpful advice when customers dial 101 toll-free from any Digicel phone or visit the Data Zone at any major Digicel store," stated Hussain Weller, Device Quality manager, Digicel Group.
DL 2, Postpaid - $ 14, 568.75, Prepaid $16,287.50
DL2XL, Postpaid - $19,631.25, Prepaid $21, 812.50
Specification:  
DL 2 
CAMERA RF/FF:  8MP/5MP
SCREEN RESOLUTION:  854*480
CPU: QUADCORE 1.0 GHz
MEMORY (RAM): 1GB
INTERNAL STORAGE: 8GB
TYPE OF SIM CARD: MICRO
MICROSD CARD UP TO: 32GB
OS: ANDROID V6.0 MARSHMALLOW
DL 2 XL
CAMERA RF/FF: 13MP/8MP
SCREEN RESOLUTION:  1280*720
CPU: 1.1GHZ QUAD CORE
MEMORY (RAM): 1.5 GB
INTERNAL STORAGE: 16 GB
TYPE OF SIM CARD: MICRO
MICROSD CARD UP TO: 128GB
OS: ANDROID V7.0 Nougat