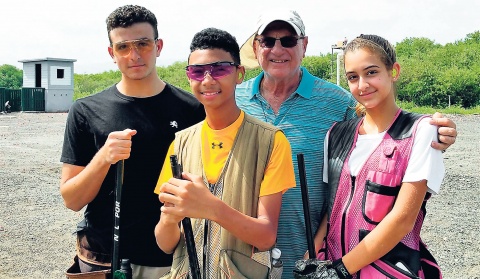 From left: Amir Azan, David Wong, Khaleel Azan and Anna Issa.
One could say it is slowly but notably becoming apparent that clay shooting has a place among our youngsters, not only for the athletic skills acquired through the sport, but also for its contribution to character development. The young leaders in clay shooting confirm the sport's potential for considerable impact on a worthy generation. For this reason, Youthlink is dutifully putting the spotlight on the likes of Anna Issa, clay shooting vice-captain at Hillel Academy; Amir Azan, clay shooting captain at Campion College; and Danzell Knight, captain of the clay shooting team at the American International School of Kingston (AISK). All three teens train with Coach Khaleel Azan at the Jamaica Skeet Club (JSC) in Portmore, St Catherine.
Anna Issa
As vice-captain of Hillel Academy's clay shooting team, Anna, not surprising, has the qualities of a focused and driven young woman; much of this she attributes to clay shooting.
"Uncle Khaleel (Coach Azan) has such a influenced me personally. My focus and concentration have definitely grown because of clay shooting."
As a shooter at the JSC for approximately four years, the 15-year-old has directed that knowledge towards future goals for her own team at Hillel. "I want to work on getting more girls, especially, involved and just building the team to make sure we have a very strong team and everybody gets along."
Increasing female involvement is pertinent at the JSC as well, given the small percentage of female members. However, there are forces like Anna who are up to the task. "Nobody has really come to me and said 'Oh, you shouldn't do clay shooting because you're a girl'. I think there are so many other sports out there that girls are more familiar with, so the girls kind of go towards those, but I feel like if they were to come out, do a lesson and they like it, then I feel like we could grow the team." The young vice-captain has already got two of her friends involved in clay shooting. According to Anna, clay shooting is an exceptional element for building discipline, leadership and dedication.
"I know I get nervous, and if I go to competitions and I don't shoot as well as I would like, I might become a little frustrated, but I won't want to quit. I know personally that I want to improve on what needs to be fixed."
Practising a sport is also a form of stress relief. "In the week, after all the school and work, I get to come out on my Saturday and I'm able to enjoy it and see some of my friends. I know a few friends from St Andrew and Campion who I don't get to see at Hillel, but I see them on Saturdays and it's just a great environment."
It's an environment in which Anna plans to stick around as she focuses on more clayshooting goals as well as on her professional future in architecture.
Amir Azan
"I grew up around guns as an Azan – it's a family thing, and my dad also used to shoot for Jamaica. It's always been in my blood." Young Amir Azan finally took up the family tradition as a 10-year-old with an ardent level of excitement for continuing his family legacy in clay shooting. As captain of the clay-shooting team at Campion College, Amir has taken charge of seeing to the growth of the sport within the school. Since entering Campion, the young shooter has seen the team grow from six members to now almost over 20 clay-shooting competitors. Being captain sees Amir organising and mentally preparing his team for shooting competitions.
"I give them pep talks sometimes; if one is nervous, I'll send them a WhatsApp [message] or talk to them at school, tell them there's nothing to be worried about and to just go out and do what they've learnt."
He has also successfully involved a few of his friends in clay shooting in a bid to expose them to some of the benefits the sport has provided him personally.
"I'm able to walk around with more confidence in myself. You need to focus a lot and it has helped me to be able to focus on my schoolwork because in order to shoot one of these birds, you have to have laser-sharp focus. Overall, it made me toughen up mentally."
Even though he aims for a career in the fields of architecture and accounting, the 15-year-old divulges that clay shooting is something he would never drop. One of the many lessons Amir has learnt from the sport and incorporated into his life has come directly from his coach. "He's always told me not to be afraid of the competition because life itself is a competition, so in order to succeed you must put away the fear and do what you know so that you can come out victorious."
DANZELL KNIGHT
Shooting for Danzell Knight has been a tradition even before he was born. "Since I was in my mother's belly I've been going to Bird Bush (a well-known bird-shooting area in St James). I also used to accompany my father to bird shooting, as like a father-son venture."
It wasn't until he was 11 years old, however, that Danzell officially began clay-shooting lessons with Coach Azan at the JSC. In May of this year, a 17-year-old Danzell, along with the JSC and aid from corporate and private donations, hosted a clay-shooting charity event which earned more than $700,000 for the Jamaica Society for the Blind (JSB). Danzell described it as an exciting task which surpassed his expectations in the turnout, as well as in the amount of funds raised. Despite the event being the product of a school initiative, the real reason for hosting a charity tournament was personal.
"My uncle, who had recently gone blind during 2017, had gone to JSB. While he was there I saw how much they were doing for him and I realised that maybe I could use my school's requirement as an opportunity to benefit them at the same time and benefit a greater cause."
Danzell is currently working with the JSC to make the charity shoot an annual event. As captain of a clay-shooting team, Danzell is also focused on growing the sport and spreading the benefits among youngsters.
"It's not really about shooting targets and getting a high score; there's also a mental part to it. With shooting it's the easiest thing to get frustrated and throw away the whole tournament, but it (the sport) teaches determination, how to control yourself, control your temper, and respect, especially when it comes to a firearm.
"There are a lot of things you can learn from the sport besides how to shoot. I think it's a great investment for parents to involve their children in because it benefits their character on a whole. I've learnt that," he continued.
As he looks forward to pursuing a career in international relations, Danzell is vehement in his plans to continue clay shooting and to continue sharing the lessons that he has learnt through the sport. The young shooter has plans to participate in international competitions as early as February next year.
Coach Azan has trained more than 150 junior clay shooters like Anna, Amir and Danzell, all of whom have benefited from participating in the sport. The coach even highlights that he has received scholarship offers from North American universities for young shooters seeking assistance towards tertiary education. One could discern a summary of the benefits of clay shooting from Coach Azan's words: "You will get good but you always want to get better, and when you get better you still want to improve because it's always challenging."