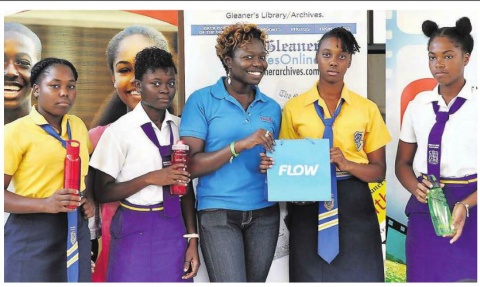 Kingston, Jamaica –Thursday, April 5, 2018: Amid tepid conversations about education, teachers and schooling in Jamaica, Claudette Richardson-Pious always ensures she takes a Children First approach. The 2008 ANSA Caribbean Award for Excellence Laureate is the co-founder and executive director of Children First, a non-profit organization dedicated to improving the lives of Jamaica's street children.
Richardson-Pious explains that it was through teaching that she developed the love for children. To contribute to their safety and development, and to actively help to shape their lives, she created the 'Bashy Bus' mobile clinic. The internationally recognized programme brings sexual health information and other social issues to young people through rural tours in the parishes of St. Catherine, St. Ann and St. James.
Richardson-Pious' work over the years has not gone unnoticed. Her philanthropic efforts and dedication gained recognition from the prestigious Trinidad based Anthony N Sabga Caribbean Awards for Excellence. The Awards are administered by the ANSA McAL Foundation, the charitable institution formed by the ANSA McAL group of companies. 
Being named a Laureate was a major stepping-stone in her life, says Richardson-Pious. It has brought further respect and attention to the work she does. "Sometimes in your country you're not respected enough but when I was nominated I felt so good. Being given an ANSA Caribbean Award for Excellence puts you on a landscape. It has opened doors for other things to happen and it's a great avenue for people to see your work," commented Richardson-Pious.
The awards programme, which started in 2005, recognizes the accomplishments of Caribbean nationals in four categories: Arts & Letters, Entrepreneurship, Public & Civic Contributions and Science & Technology. Though funded by the ANSA McAL Foundation, the awards are independent of the company. Its committees are made up of people in the five sub-regions (Barbados, Guyana, Jamaica, Trinidad & Tobago, and the OECS), and its selection panel is comprised of persons of stature and achievement from across the region.
After receiving the life-changing award, Richardson-Pious has expanded her philanthropic work in a major way, particularly around HIV prevention, screening and linkage to care. Children First has partnered with the department of corrections in the juvenile centre to offer development programmes that will aid in self improvement amongst youth.
The ANSA Caribbean Award journey further helped to shed light on the work done by Children First, and the substantial cash prize (TT$ 500,000) has significantly benefited the institution's mission. "This award really made a big difference. It was even more exciting when I received the prize money as initial deposit towards acquiring the youth wellness centre," said Richardson-Pious.
The continuous growth of Children First and its affiliates is the ultimate goal for the ANSA Caribbean Awards Laureate who plans to expand the organization nationally and regionally.
Richardson-Pious implored fellow nominees and visionaries like herself to be change makers and change agents in their countries. "Nation building is a vital part of any population's growth and if we can all play our part then we can definitely create better opportunities for ourselves. We should continue to contribute to the country and encourage other persons to be a part of the change," she explained.
The upcoming Anthony N Sabga Caribbean Awards for Excellence ceremony will be held at the Jamaica Pegasus on Saturday, May 12. This year's event will see a Jamaican, Prof Kei Miller, being awarded for the fourth time since the first ceremony in 2006.
For more information or questions please contact:
DRT Communications Ltd.
Nikki Lee
(876)-631-8663