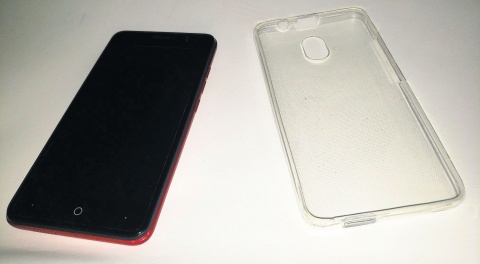 DL501 SMARTPHONE SPECIFICATIONS
• Body: Mostly plastic, black with a removable battery. Other available colours: red, white.
• Screen: 5.0 inch touchscreen. Full wide video graphics array (720 x 1280).
• Rear camera: 8.0 megapixels
• Front camera: 2.0 megapixels.
• Memory: 1GB RAM, 8GB internal memory, 32GB Micro SD card.
• Speed: Quad-Core 1.3 GHz.
• Operating system: Android 8.1 (Go Edition, that uses 2.5GB of the internal memory).
• Battery: 2,000mAh.
From the specifications of the Digicel smartphone model DL501, there is a lot to consider, but also a lot to excuse, like the power and volume buttons featuring some distinguishing marks. However, once the phone has been turned on and off a couple times, it becomes automatic. As one of the latest budget smartphones from the sub-brand, it may make a bad first impression on a high-end smartphone user, with its small amount of primary and internal memory and low processing speed.
However, according to Elon Parkinson, the public relations and communications manager for Digicel, "Considering all the features of the DL501, it is for everyone, from high-end to mid-end to low-end mobile phone users; some individuals oftentimes come across a particular device that they love, while others value something specific that draws them to a device."
He added, "Take for example, for someone that may be in-between devices, moving from a low-end smartphone before upgrading to a high-end one. This smartphone is one of the most appropriate interim devices."
Instead of guessing the 'smartness' of this Digicel smartphone, it would be best judged by identifying singular features and the needs of the four main types of phone users.
PHONE USERS
1 The 'always plugged in and on' user or, in other words, the notification-watching, social media junkie who is always on top of the news and keeps friends posted. The battery life may not be the most suitable but it charges very quickly and, if possible, the user can adjust the settings to accommodate longer usage by doing routine data clean-up and disabling the number of notifications received from applications that are rarely used. This minimises the RAM usage that is required for the phone to work efficiently.
2 The 'keep it until it is a keepsake' user will be happy that the plastic construction, which is not surprising at its price point (approximately $7,000), is actually very durable. It comes with a soft gel case, but there are simple, cost-effective, hard-shell cases that can fit its shape and size. It is lightweight and serves the text-on-the-go or call-on-the-go purpose. It can probably serve a person about five years once it is cared for.
3 The 'capture every moment' user will not be thrilled with the camera, as it is not the best. The photographer will have to rely on autofocus, since it does not have the option to tap on the screen to adjust its sharpness. However, when it does focus (with a firm hold), it can take post-worthy images in the day. Night time mode does a less-than-okay job by combining multiple exposures to restore details. However, if you are a regular digital camera or high-end smartphone user, don't expect it to produce portraits that will make for an interesting photo album. Rather, it will take single-use snapshots. The video is, at best, two out of five stars, once there are enough light sources. The sound recorder is pretty reliable, though, with clear voice recognition.
4 The 'see no evil, hear no evil, speak no evil' user's interest doesn't lie in taking photos/videos or social media, but in having a phone that can be used to communicate and entertain. With a few chosen applications, one or two simple games that can be accessed on the Android platform, and a playlist of favourite tracks (saved to the external memory card, of course) that are accessible through the built-in music app, the DL501 can be that phone. After all, its audiovisual features are satisfactory.
OTHER COMMENTS
Although budget-friendly, this smartphone has features that some high-end Android devices may not have. From the fourth and final phone users (the 'see no evil, hear no evil, speak no evil'), the DL501 may get a round of applause. That being said, it can be used for screen sharing/casting the screen to a smart TV once the mobile phone and television are connected to the same Wi-Fi network. So, for a student who might have prepared a presentation using Google Docs on the phone, sharing with the class is as easy as 'one, two and screen share'. Perhaps you just want to share the screen on a bigger monitor; whatever the reason may be, check it out for yourself!