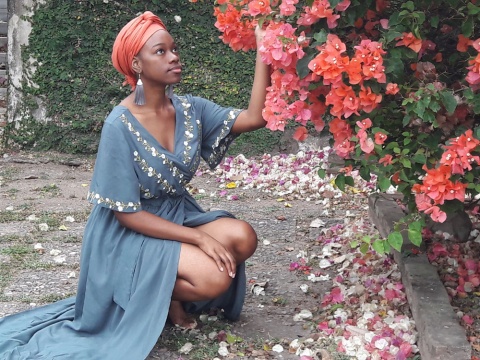 It is an indisputable fact that young people, especially the current generation, shape all aspects of the world through their artistic, scientific, political, philosophical and social contributions. One might name the more popular likes of Zendaya, Yara Shahidi and Sasha Obama when listing today's most influential young people.  But our region and our very own country have passionate young people of equal intellectual stature and power to influence. One such person worthy of highlight is 18-year-old Britney Gabbidon. Being a fresh poetic savant Britney was shortlisted from over 70 participants and 350 poem entries  in The Poet Laureate of Jamaica and Helen Zell: Young Writer's Prize for Poetry competition. She walked away with the runner-up prize.  
Putting pen to paper 
While a lot of us were only just learning to read, a 7-year-old Britney Gabbidon was immersing herself in the world of poetry. "I started off with song lyrics and that developed into short stories and poems until I think I seriously started writing poetry at around 11."  At 11 years old this budding poet paid keen attention to poetic structure: "I was basically trying to replicate stuff that I had read so I focused more on things like structure". At such a young age Britney was already taking notes on the structural work of the likes of Shakespeare to stimulate progress in her own poetry. Youthlink would agree that Shakespeare, the Englishman regarded as the greatest playwright and one of the world's most influential writers, doesn't seem too shabby for an adolescent. 
Said adolescent's passion for Literature emerged from her relatively introverted personality. "I still am somewhat, but I was even more introverted when I was younger. When I say I was 'quiet', I mean I DIDN'T talk", Britney explains. So naturally, much of her attention was focused on reading and her expression centred on writing. 
Thematic inspirations
"I moved from focusing on structure and trying to replicate other people's work to focusing on developing a style for myself - the subject matter became stuff that meant more to me", Gabbidon tells Youthlink. The poetic subject matter made a shift from Britney's earlier interests in emotions to a bit more of social commentary: "I guess you could say it kinda switched to subjects that meant a lot to me or issues I saw playing an important part in the world at the moment". Thus inspiring images usually wouldn't fall into the category of flowers or autumn leaves for Britney, even though she is one to appreciate the simpler and more natural things. Much of the visual catalysts for Gabbidon's works lie with more austere images. Referring to the 2014 marches in Ferguson, Missouri protesting the killing of young black man, Michael Brown by a white police officer, Britney relays:
 "there was this image of one of the protesters holding up a sign with a burning tyre rolling by him and I just thought that was a really powerful image. It inspired me to write a poem regarding the situation." 
As we see, racial tension is one of the themes that has inspired this young poet. However this spans beyond the issues of the United States and into the the Caribbean. Her poetry touches other region-specific themes such a colourism - an especially prominent plague in Jamaica. In light of these Caribbean themes, a natural inquiry was made into the link between Britney's regional and poetic identity. When asked if she considered herself a 'Caribbean poet' Britney was quick to assert, "I don't like labels". But despite firmly approaching poetry from universal angles, this young woman has a deep appreciation for the Caribbean perspective. She looks up to the Derek Walcotts and Lorna Goodisons knowing that "those persons come from where I come from. They have accomplished so many things so there's no limit to what I can do." 
Aside from Caribbean poets, Britney cites American writer and activist, Audre Lorde as one of the poets she looks up stating, "the way I feel when I read her poems is the way I want other people to feel when they read my poetry". Alongside racial tension, Britney's poetry has even more recently been inspired by themes of black femininity and spirituality in nature. 
The writing zone: "Writing is my time - it's my time to sit down and focus on me and something that I love doing"
Despite writing being a lifelong passion, Britney has only recently started to delve into the literary world as a budding professional. "It was only shortly before the Poet Laureate competition that I'd actually taken the time to sit down and commit to writing",Britney states, describing poetry as "something I love but also something I don't spend enough time with".  To get into her poetry 'zone', Britney listens to music, naming artists like Lorde, Nina Simone, Erykah Badu and Damian Marley as inspirations. Her ideal aural background for a writing session also often ranges from Afrobeat to Indie Rock. 
To network on the poetry scene, Britney suggests attending literary open mic events, which are often held at various Jamaican high schools. The Calabash International Literary Festival, hosted in Treasure Beach, St. Elizabeth, is a huge event that our young poet hopes to attend in June. 
First, A Poet.
"I am a poet first and foremost, but i'm not just a poet" Britney notably professed during her interview with Youthlink. As an aspiring Marketing major at the University of the West Indies, Britney stated, "over all I want to be a writer. Yes, I have other goals and aspirations but this one is closest to heart." She is currently working on a manuscript, the first among many literary works of both prose and poetry that will be published from this young writer. It is safe to say that we should take note of the likes of Britney Gabbidon, a marked and guaranteed trailblazer in Jamaica and the expansive literary world.