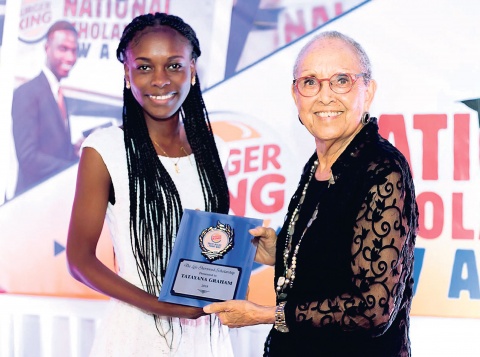 Tatayana Graham (left) receives the Burger King Lois Sherwood Scholarship from Lois Sherwood, chair, Restaurant Associates Limited, at the presentation of the 2018 Burger King Scholarships at the Terra Nova Hotel on August 20. Three point eight million dollars in scholarships, bursaries and book grants were presented to 24 students at the event.
The house where she lived with her mom and siblings burnt down in January 2016, and among her personal belongings, all her notes to support her studies for the Caribbean Secondary Education Certificate (CSEC) examinations went up in flames. She called a shelter 'home' before her mother was able to secure the means for a small dwelling.
With CSEC four short months away, Tatayana Graham's academic journey could have been seriously derailed, but not so for this former student of St Andrew High School for Girls, now entering the University of the West Indies (UWI), Mona, thanks to a J$900,000 Lois Sherwood Burger King scholarship.
Tatayana describes her inner-city Fletcher's Land community as "one riddled with crime and violence; one that rarely has success stories of young people rising above the circumstances and achieving excellence". She is determined to "be the exception to that rule" and not be among the host of unemployedyoung women getting pregnant early in life, which is commonplace in her community.
The fire that gutted her home only ignited greater determination for Tatayana, who had already been through a lot of emotional trauma. Her father died when she was just two years old. Her mother, the sole breadwinner, carried the financial burden of caring for her family of five while also battling declining health.
According to Tatayana, "There have been countless times throughout high school that I only had enough lunch for two of five days at school." Yet, she attended school regularly, attained good grades, and with the guidance of a mentor, Effiom Whyte, a tablet donated by FLOW and the support of her teachers and family, she achieved six 1s and two 2s at CSEC, and two 1s and two 2s at Caribbean Advanced Proficiency Examination (CAPE).
She counts topping the 2018 Lois Sherwood Burger King scholarship as one of her greatest achievements so far, as it sets her on the path to acting on "a deep desire and passion to become a medical doctor".
"I remember quite vividly the suffering my grandmother endured as she battled lung cancer. There was nothing I wanted more than to help save her life but I could not. When she passed away, I realised I did not want anyone else to lose their loved ones prematurely. In addition to that, my mother, too, has ongoing health issues and because of our financial status, she is unable to receive the medical care she needs. I want to be the doctor who gives her the care she needs," Tatayana said.
Lauding Lois Sherwood, chairman of Restaurant Associates Limited, franchisees of Burger King, Popeyes and Little Caesars Pizza, and an alumnus of St Andrew High School for Girls, for the scholarship dedicated annually to a student of the school "who embodies excellence in academics and community service", Tatayana is also committed to "giving back and paying it forward for others".
An 'I Believe Initiative' ambassador, she served as a member of many clubs at St Andrew High and helps to tutor persons studying for CSEC in her community.
Now her journey continues at UWI and she says "without a doubt, the best is yet to come".