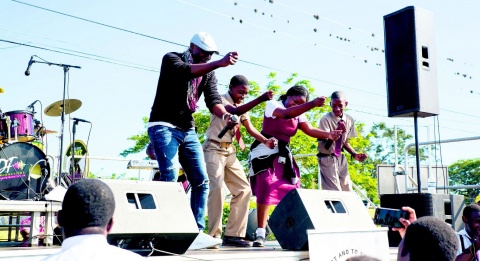 Students at Glenmuir High School show Kevin Downswell how to move to the music. CONTRIBUTED PHOTOS
Tthe best Dressed Chicken 60 School Tour made its final stop at Denbigh High School on Tuesday, February 5, 2019. The tour landed at 20 stops, reaching more than 30,000 students from more than 25 schools across Kingston, St Ann, St James, Westmoreland, Manchester, Clarendon, St Catherine, and St Thomas.
Ultimately, young people have had the opportunity to have fun in a positive environment, while learning the values and attitudes exemplified in biblical teaching. Best Dressed Chicken Regional Marketing Manager Avadaugn Sinclair expressed that this is exactly what Jamaica Broilers Group had hoped to accomplish with the school tour.
"What we wanted to do was to go back into the schools and instil the same values we learnt when we were growing up. We wanted to meet the students where they are, using music, dance and drama to highlight positive solutions to the challenges they face. This has allowed us to connect with the students tremendously," stated Sinclair.
Inter-School Christian Fellowship (ISCF) students (both past and present) have volunteered to share their testimonies on how Christ has impacted their young lives. Past ISCF President of Alpha Academy Kenneka Morris was one such volunteer engaging students in a lively call-andresponse chant well known to ISCF students across the island:
Kenneka: Waddup?!
Students: Satan jus get bad up!
Kenneka: Ee eeeee!
Students: Jezas sweet ee man!
Kenneka shared how her ISCF friends introduced her to Jesus, saving her from poor choices that were about to dramatically change the course of her life.
Similarly, Youth Reaching Youth (YRY) – a peer evangelism programme hosted by Swallowfield Chapel – had students roaring with applause as they enacted a powerful Jesus saving a young lady from the oppression of alcohol and suicide. The creative costumes and dramatic elements held the attention of students and teachers alike.
YRY also showcased their dancing skills with Best Dressed Chicken mascot Mr Chicken, as they moved to the beat of the school tour theme song Rise Up, produced by Glory Music. The group of youngsters searched the audience for student dancers who joined the presentation, demonstrating the latest dance moves, much to the delight of their peers.
With all the excitement generated by the tour, Sinclair noted that the company has been mindful that follow-up is critical to ensuring positive change is rooted in the schools. Through its partnership with the ISCF, students will be able to participate in Bible studies, where they can learn more about the values they have been introduced to and have some more fun in Christ while they're at it.
"We have students and teachers in the schools who can continue the work after the tour. So far, over 5,000 young people have committed their lives to the Lord, and through the ISCF groups in the schools, we have prepared a programme to disciple these students," said Sheldon O'Connor, general secretary of ISCF.