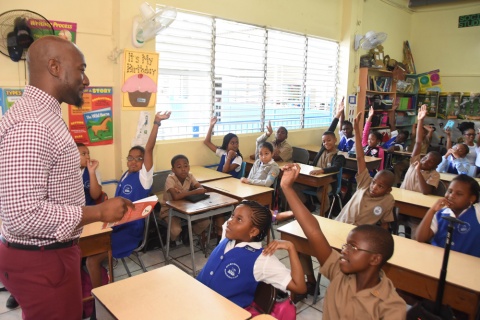 Kingston, Jamaica - May 8, 2018 - Read Across Jamaica Day is a national literacy initiative formed to foster a love of reading in children in Jamaica and across the Diaspora. The Caribbean's only all business channel, Business Access TV, seeing this as a critical part of youth development, participated in the initiative on Tuesday May 8th at the Stella Maris Preparatory School. Garth Walker Managing Director of BATV, engaged the students in an interactive session. 
Since its inception in 2003, Read Across Jamaica Day has provided many opportunities for young children to be influenced positively through an appreciation for literacy. 
Inspiring the future of Jamaica to dream big and believe in the value and validity of their dreams was one of the reasons disclosed by Walker for participating in Read Across Jamaica Day.
"The initiative itself is remarkable and should be completely taken advantage of, reading and engaging with the children not only helps to grow their appreciation for reading and books but allows them to see just how important literacy and education in general really is," explained Walker.
His sentiments were shared by grade 4 teacher; Ms. McClymont "Read across Jamaica day is one day but it is an amazing day. Reading is our number 1 priority; Garth coming to read with the children was interesting. The fact that even my weakest reader was interested, wanted to read and was reading without any help. That was great!" 
The reading exercise that kept students engaged for just over forty-five minutes, included a short comprehension Q&A and a small pep talk from the CEO on the beauty of following dreams. 
The school's vice principal Pat Peryer said "It's amazing to have him come back, It's good that he remembers us and it shows the children really how far you can go when you commit to not only reading but a good education. I'm happy he has decided to share Read Across Jamaica day with us.  I was here when he was a student and I'm so happy to see all his achievements." 
BATV's Managing Director Garth Walker shares a light moment with Stella Maris Prep School grade 4 teacher Ms. McClymont (centre) and Vice Principal Pat Peryer (right) at Tuesday's Read Across Jamaica Day activities. 
Garth Walker BATV's Managing Director engages students at the Stella Maris Prep School for Read Across Jamaica Day on Tuesday.