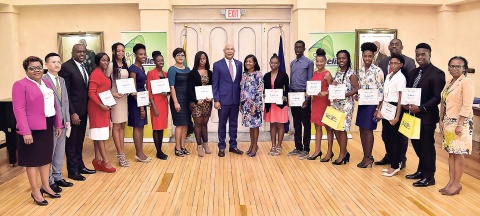 Governor General Sir Patrick Allen (centre) and Lady Allen (10th right), along with recipients and sponsors of the Summer of Service awards during the presentation ceremony at King's House on Tuesday, August 21.
Twelve tertiary students received more than $5 million in scholarships and grants at King's House as part of the governor general's Summer of Service programme under the I Believe Initiative.
The students, who are enrolled in institutions such as the University of the West Indies, the University of Technology, the Caribbean Maritime University and College of Agriculture, Science and Education, were awarded through the competition, which recognises students for outstanding voluntary work undertaken during the summer holiday period.
Speaking at the awards function, Governor General Sir Patrick Allen encouraged the awardees to continue to foster a culture of volunteerism as an avenue for self-development and national growth.
"Those who want to live meaningfully and well must help to enrich the lives of others. The fact is, none of us truly win until we all win," said Sir Patrick.
He further encouraged the youngsters to take advantage of opportunities that present themselves, considering not only the possible financial gains, but the wealth of experience to be garnered. 
RECIPIENTS
The students who received awards during the ceremony were Ashera Barron, Ashley Bernard, Samantha Forrester, James Peart, Jastine Smith, Samantha Webb, and Magali Williams, who will pursue studies at the University of the West Indies, Mona; Stephanie Wright, Northern Caribbean University; Kerone Miller, The Mico University College; Brittania Derby and Mellisa Edwards, who will attend the Caribbean Maritime University; and Phillip Griffiths, the University of Technology.
The scholarships and grants were made available through sponsorships from NCB Foundation, Derrimon Trading Company, Newport Fersan Jamaica Limited, the Embassy of the People's Republic of China, Kingston Bookshop, Caribbean Maritime University, and First Regional Co-operative Credit Union.