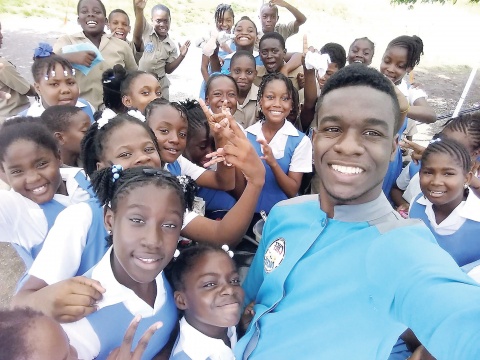 When he last spoke with Youthlink, he had said it would take another five or 10 years for his goal of having his own line of products marketed to consumers.
"I'm confident about my jerk sauce and a host of others. I want that when you see Maggie, Miss Birdie or even Grace, Chef Dacres is right there, too," were his exact words.
It hasn't exactly been five years – actually it was only last year that we interviewed the most talked about young chef in the east, Chef Dacres. What has he been up to? Well, on some kitchen shelves and soon, within supermarkets and wholesales, you will see a bold glass jar with his name on it. That's because the ambitious chef has been marketing his own line of products – the firebrand that is Dacres Back Yaad Jerk Seasoning.
"Jerk seasoning is an everyday ingredient for most Jamaicans when we are cooking, because it adds a different kick to the pot; it's a part of our culture. I have always been making my own seasoning from scratch and knowing that it is different, has a lovely taste and is as memorable as is vibrant, I decided to make this product and put it out on the market," he said.
Although he could have easily kept his secret ingredient to himself, Dacres says his treasure was so good he just had to share. "I want other people to have a different quality in their meals and a different 'vybz' in their kitchen. That's why my slogan is 'put some vybz inna yuh pot'!"
FIRST BATCH
He began by perfecting his recipe, making adjustments each time he prepared a dish until he was fully satisfied. He then made his first batch, professionally, in June. It was 150 jars, labelled and packaged attractively for sale.
"They were going like fresh-baked bread!" He exclaimed. "Before I even started to make the product, I created an Instagram account called 'dacresbackyaad' and I promoted it. People started to follow the page and they were amazed to see a youngster striving to another level with a dynamic product made from scratch, with nothing but passion and talent. I felt so confident within myself to know that this is my product and I told myself that people will love it, too, and they will buy it, too."
No stranger to Instagram popularity, having over 20,000 followers on his official page, the jovial chef said his sponsored post reached thousands of people and he received 80 phone calls. "One of the calls was from Canada and the person made 10 orders," he recalls.
"I want other people to have a different quality in their meals and a different 'vybz' in their kitchen. That's why my slogan is 'put some vybz inna yuh pot!'"
MEDIA ATTENTION
The St Thomas resident, whose real name is Anthony Dacres, is no stranger to the media. "I've been featured by 'Eat Around Jamaica' earlier this year, and I was also invited to be a part of the live audience for TVJ's 'Daytime Live'. My mother, who is always a tower of strength for me, convinced me to take samples and wear my uniform, which I frowned upon at first; but you know how mothers are. When I arrived at TVJ, the producer saw that I had food and was well dressed and laughed, saying to go to the guests' room and prepare myself for an interview. I was the 'Daytime Xtra' that day," he said.
Still building his brand, he caught the attention of The Gleaner who visited him for a live demonstration and a feature in the Thursday's Food section.
"When The Gleaner featured my jerk seasoning I honestly expected greatness to follow, for I know my faith will never die. Knowing that whenever the article came out I would get calls, whether business proposals or just people calling to make their orders, I prepared myself with all my ingredients and jars to be filled. The day after I got featured in the paper, I got a call from 'Smile Jamaica' to do an interview. I was speechless. I somehow managed to say 'I accept this invitation'," he said laughing
"I would say the interview was quite successful," he said. "In a day, it's the first I recieved so many calls! It was tremendous! I couldn't believe what was happening, but I am a man of God and I owe everything to Him."
Looking ahead, the chef is excited for the future of his product. He tells Youthlink, "The offers so far have been excellent, but I want to take my time and make sure that I am making the best decision that will benefit me and my brand in the long run. I still believe in the value of cooking for togetherness and enrichment, not just for profit."