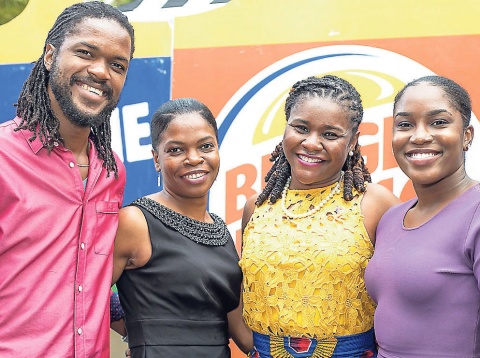 AnnaKay Hudson (right) with (from left) Campion College drama teacher Damian Radcliffe, her mother Annette Gibbs Hudson, and Sabrena McDonald Radcliffe, Burger King's head of sales and marketing.
"In life, we do not always get what we want. This is particularly true for persons like me who are never handed anything without hard work, dedication, and upon the basis of merit. I want to have it my way, and not the predetermined lifestyle that my environment has in store for me."
AnnaKay Shanice Hudson is very clear on the path she must take to achieve the success she wants.
With nine grade 1 passes at Caribbean Secondary Education Certificate and four grade 1s at Caribbean Advanced Proficiency Examinations (CAPE), she is even more excited now that the 2018 Burger King Open Tertiary Scholarship has paved the way for her journey towards a bachelor of science degree at The University of the West Indies (UWI) and a career as a forensic pathologist.
AnnaKay says it's just what she needs to "go large" and not be "a regular combo", humorously referencing meal options at Burger King. She says that spending her most impressionable years in downtown Kingston had her considering what she was "ordering from life".
Getting pregnant and dropping out of school were definitely not on her agenda, and parties and drugs did not support her goals, so she studied hard, played baseball, and involved herself in a range of extracurricular activities, including theatre and drama.
One of her proudest moments was when she directed a play for the Jamaica Cultural Development Commission in 2017, which won a silver medal and the lead actor a gold. Her work with the Jamaica Musical Theatre Company in Dolla Fi Dog was equally rewarding. She also assists young children in her community with their homework.
Then, as youth mayor of Kingston and St Andrew, she had an opportunity "to be a part of something bigger than myself, beyond my age group – a chance to get a glimpse of what it takes to run a country".
AnnaKay is super proud of winning the Burger King Open Tertiary Scholarship, which she said removes the financial uncertainty of education and emotional distress that have been constants along her academic journey.
On the eve of sitting the CAPE Unit 1, her beloved uncle was buried, and then on the lead-up to Unit 2, her grandmother died abroad. "Each time, I lost school and study time, and I was always playing catch-up, but failure was never an option," she explains.
"Even when my many extra-curricular commitments seemed a lot, I never quit because I knew I had to do my best so that they could do their best. I am happy that I have not become a bookworm with no sense of self, society or culture, but a young woman who is intellectually capable of having riveting discussions on politics, chemistry and challenges facing youth, while still being able to be respectful, honest and benevolent."
What of her career choice? She explains, "It is my intention to be a forensic pathologist because of personal experiences I had. Being a medical doctor is but one step on my path of analysing the literature of pathology and understanding and diagnosing the causes of the sudden pauses in life.
"By doing so, I can improve the quality of the local justice system by helping to perform autopsies in a timely manner, as well as help families in mourning to receive closure sooner than anticipated.
"I am truly thankful to Burger King for setting me on a path which will enable me to have a successful life in a career that enables me to help others,"AnnaKay declares.
AnnaKay Hudson, 2018 Burger King Open Tertiary Scholarship awardee.