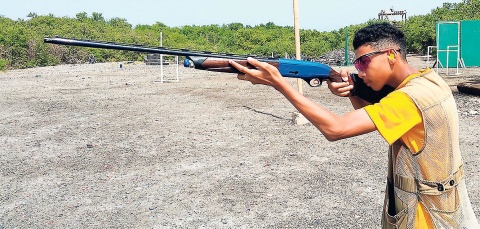 Clay shooting, a sport involving several disciplines such as trap shooting, skeet shooting and sporting clays, has been growing in popularity within Jamaica and the rest of the world. The sport mimics traditional bird shooting; however, instead of birds as targets, clay targets are propelled into the air and shot at various levels of competition across the disciplines. The Jamaica Skeet Club (JSC) is one of our country's primary hubs for clay shooting, and several competitors, including more than 150 youngsters, learn and practise their art there. This week, Youthlink focuses on one particular youngster who is helping the JSC to highlight the significance of the sport beyond merely shooting.
David Wong, a secondform student at Ardenne High School, started clay shooting with the JSC in June 2017. Wong was introduced to the sport through hunting with his father in the popular birdshooting area referred to as 'Bird Bush' in St James:
"My father would take me hunting and he said, 'I guess you should take some lessons because I don't want you missing all the birds'. He found this excellent coach, Khaleel Azan, and I took two lessons with him and started to fall in love with the sport. I was very excited for it [clay shooting] but, at the same time, very doubtful because I didn't think I was going to do well at first."
Coach Khaleel Azan informs Youthlink that one of the biggest issues he observed with David was a lack of confidence. In explaining his approach to a student like David, the JSC head coach states, "You have to know how talented the kid is. From they start, you will see how quickly they're grasping the techniques, and as soon as they start to grasp the techniques, I start to train them mentally to teach them how to visualise and how to be able to repeat what you do well."
David was identified as a very talented student from his very first shooting session. "With everything I told him, I could see that he really wanted to learn," Azan claims.
David and coach Azan trained on increasingly harder targets throughout his first summer at the JSC, in preparation for the 13-year-old's first official event. Only a year later, and David has already competed in more than 20 events and taken to beating other juniors, as well as some senior shooters. He humbly maintains, however, that his focus is on his own ability and not that of any other competitor. Over the course of competing, David has earned himself approximately 15 awards. He tells Youthlink that such accomplishments, combined largely with the positive environment created by clay shooting, has allowed him to grow mentally as well as socially.
"It has helped me with school in being more confident and being more social, because it's not only about the shooting. When you come out here [to the JSC], you actually meet people and you learn more things."
His coach has relayed David's level of progression from the sport's Hunter's Class to the E Class (both of which David won), noting that, "The only challenge I have with him is that he doesn't know how good he is." David is currently in D Class, but Azan highly anticipates his advancement to C Class for next year. Both he and David are eagerly looking forward to testing the young shooter's abilities in international competition as soon as the coming year. David showed that shooting and improving are clearly always on his agenda as he mentioned his plans to return to bird shooting at Bird Bush, prior to the start of the next clay shooting season, for added practice. The youngster is set to compete in the Bernard Cridland Memorial event shortly.
Grooming a positive group of young people
When asked to appeal to parents who may be reluctant to involve other youngsters like David in clay shooting, perhaps due to the cost of approximately $40,000 per month, the JSC head coach simply states,"I can only use testimonials and history, where I have seen that as kids get better with shooting, they become more disciplined and focused. I get the reports from the schools that their academics grow simultaneously."
David exists as evidence of this impact of clay shooting on students. He notes that the sport has allowed him to remain disciplined and focused in acquiring consistently high grades in his subjects, especially science, which is the future surgeon's favourite subject. Though he fully intends to become a neurosurgeon in the future, David professes that clay shooting is something he would love to continue.
Coach Azan emphasises that the JSC grooms students of good character by requiring good behaviour from their members, both within and outside of school. The coach himself takes quick action to mentor students if their behaviour should ever waver from being positive. He notes the positive impact such practices have on young shooters like David. "It becomes a solid group of kids that look out for each other. Whether they're at Campion or Ardenne or Hillel or JC, or a school in the country, they know each other and they look out for each other."